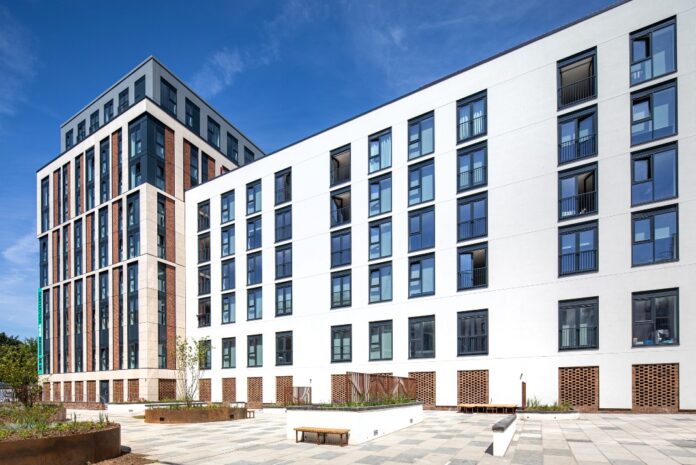 Senior Architectural Systems' Pure aluminium window system has won one of the first King's Awards for Enterprise. The award recognises the design, development and delivery of the Pure system, which has a patented thermal barrier to reduce heat loss.
The manufacturer is one of 148 organisations nationwide to have been recognised for the King's Award for Enterprise. Winners were announced today (Friday 21 April). The King's Award for Enterprise recognises and celebrates business excellence across the UK, focusing on innovation, sustainable development, international trade and the promotion of opportunity through social mobility.
"We are delighted to have received such a prestigious accolade and to be amongst the first ever winners of the King's Award for Enterprise," said Mark Wadsworth, Senior Architectural Systems' managing director. "I am particularly proud that Senior has been recognised in the innovation category as our investment in improving the efficiency of our products, as well as our commitment to developing more sustainable manufacturing processes, is at the very heart of who we are and what we do.
"We are constantly pushing forward in the research and development of our aluminium fenestration solutions to not only meet the current regulations on energy efficiency and heat loss but to exceed them, helping our customers futureproof their projects and create a more sustainable legacy for the construction industry. The King's Award for Enterprise recognises the progress we have made but is also a reflection of the hard work and expertise of all our employees and that is something to be extremely proud of."
Leaders of Senior launched the firm's low U-value Pure aluminium system in 2015, and achieved a UK patent for it the following year. The system features an expanded polyurethane (PUR) thermal barrier. As well as helping to prevent heat loss to reduce energy consumption, the Pure system also offers 'cradle to cradle' recyclability: even the PUR thermal barrier can be reused, with no requirement for landfill.
The Pure window system can achieve U-values as low as 0.71W/m²K when calculated as a commercial CEN Standard window, to comfortably meet the latest targets set out by Part L of the building regulations. Over the last decade, Senior has continued to develop and extend its Pure range to include a variety of window styles and both commercial and residential door options.