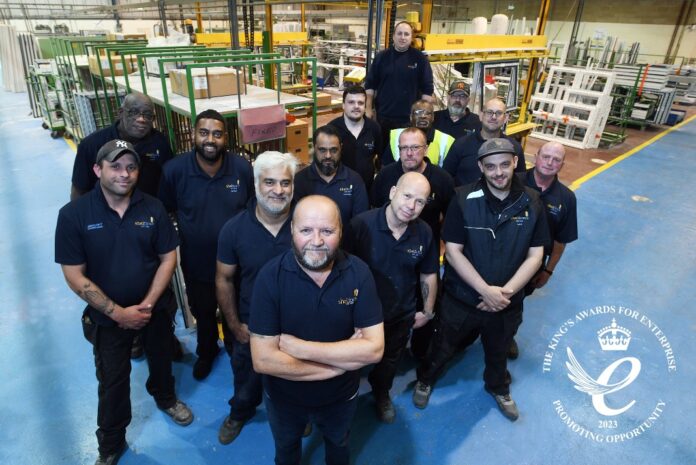 The king has approved the prime minister's recommendation for Birmingham-based window and door manufacturer Shelforce to be recognised with the highest UK award for British business: the King's Award for Enterprise in Promoting Opportunity (through social mobility). The award comes some 40 years on from the Princess Royal, Princess Anne, officially opening the current Shelforce factory in 1984. Previously named the Queen's Award for Enterprise, established in 1965, the awards can be regarded an internationally-renowned symbol of excellence.
Shelforce employs 30 people, of which 75% have a disability. The business aims to provide a place where people with mental or physical disability can thrive in employment and produce high-quality products in a competitive market.
Howard Trotter, the company's business manager, is to represent Shelforce at a royal reception hosted by the king at Buckingham Palace. He said: "It is an unbelievable honour to receive the King's Award for Enterprise in the Promoting Opportunity category. To be recognised by the highest honour in UK business, renowned across the world, is an incredibly proud moment for Shelforce. We are even more honoured that we have been recognised in the first ever King's Award for Enterprise, and in the year of the king's coronation.
"Promoting opportunity is the reason behind Shelforce's continued success. This is fantastic recognition for our incredible team and the processes we have in place. It's also fantastic news for the local community of Erdington."
In the last three years, Shelforce has been featured on ITV's Made In Britain and has won the Greater Birmingham Chambers of Commerce (GBCC) Business of the Year Award. "The last few years has led to some wonderful recognition of the business through numerous business awards," added Howard, "but it doesn't come any bigger than being awarded the King's Award for Enterprise.
"To be able to fly the King's Award flag and use the emblem is amazing. We are hoping it will help open the door to other councils whose social values and sense of social responsibility line up with our own."