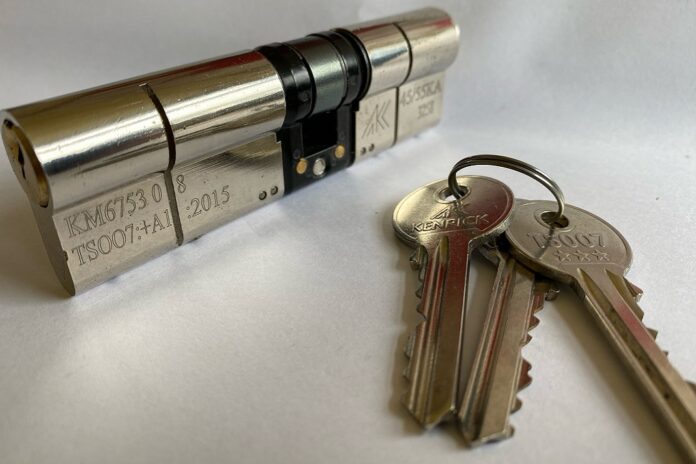 Leaders of the hardware supplier Kenrick have unveiled a second-generation, three-star, high-security cylinder, which has been approved to TS007: 2014 British Standard rating – the 'highest level of certification currently available', according to Kenrick's representatives. Now featuring a brass barrel and a nickel cylinder, the euro cylinder is anti-snap, anti-pick, anti-bump, anti-screw, anti-drill and anti-pull, making it Kenrick's 'most secure cylinder ever', they say.
Endorsed by the Police Secured by Design scheme, the cylinder features multiple high-security pins to provide maximum security and 'excellent resistance' against all known cylinder attack methods, representatives of the business have said. The cylinder meets the standards of TS007 on both sides of the cylinder, which means that fabricators only need to stock one cylinder for both open-in and open-out functions. The product is also compatible with an A1 key blank, so homeowners can easily buy additional keys from the high street if they need to, we were told.
"In 2021/2022, there were more than 192,000 burglaries reported in England and Wales, which equates to over 500 burglaries a day," said Steve Williams, Kenrick's sales and marketing director. "With a door being used to gain access in more than 70% of burglaries, the choice of hardware is really important. We're delighted to launch our new second generation three star cylinder, which eliminates any possibility of tampering with the cylinder through picking, drilling, snapping, bumping, pulling, drilling or screwing, therefore offering maximum protection for homeowners."
The cylinder comes in a polished brass or a nickel plated finish and can be easily retrofitted with no additional preparation, the business' leaders have reported. The product is available as paired alike or thumb turn, in all sizes from 70mm to 110mm in 5mm increments. The cylinder has also been tested to 100,000 cycles and comes with a 10-year mechanical guarantee.
Kenrick is a leading supplier of hardware solutions for PVC-U, aluminium and timber window and door systems. The company has a proud heritage spanning more than 200 years, having been established by Archibald Kenrick who manufactured buckles and livery fittings. Kenrick's range of top-quality products includes the market leading Excalibur multi-point locking system, the four-point Centurion system and the Easifit and Espagnolette locking systems.