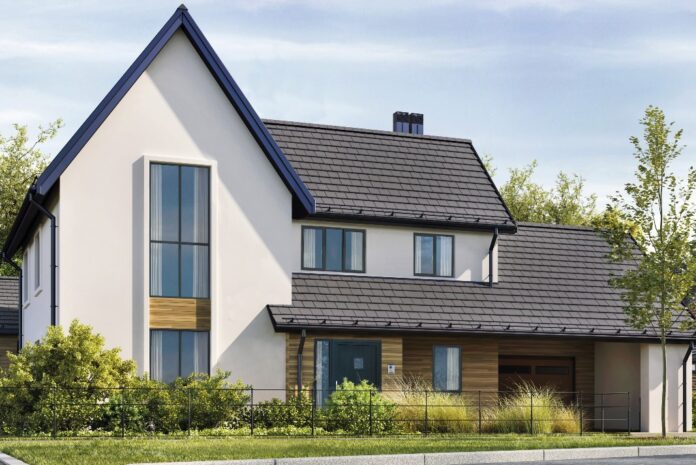 Leaders of Real Aluminium have introduced the Alitherm 400 Hybrid system to the manufacturer's range of bi-folding doors, sliding doors, residential doors and casement windows. This is a new and improved cost-focussed system, the business' representative explained.
The Alitherm 400 Hybrid is a combination frame system pairing internally glazed sashes with externally glazed fixed frames. It gives a slimline appearance with no dummy sashes on fixed frames.
Manufactured to incorporate a pre-gasketed system and quick glaze bead to optimise performance and reduce installation times, Alitherm 400 Hybrid is one of the first of its kind to be built into a thermally broken aluminium system, we have been told. The polyamide thermal break technology creates a thermal barrier between the cold air outside and the warm air inside. By reducing thermal transmittance, this enhances the overall U-value of the product to 1.4W/m²k with double glazing.
Additionally, the system is rigorously tested to PAS 24:2022 as standard, and exceeds the requirements for both weather resistance and security performance.
"We are very excited to be offering our customers a new, cost-effective system, and still with a 10-day turnaround," said Phil Walker, managing director of Real Aluminium.
"We will also be introducing a range of contemporary, sleek pull bar handle designs for the Alitherm 400 door collection, available with slam lock for added security.
"Real Aluminium continues to evolve and adapt to our customers' requirements, to make sure they get the best products and the most reliable service."
The new Alitherm 400 Hybrid system will now be the default system for all quotes. The full range of internally beaded (400i) and externally beaded (400x) products are available by request.
To find out more about Real's Alitherm 400 Hybrid, and the full range of aluminium systems, visit the firm's new website.