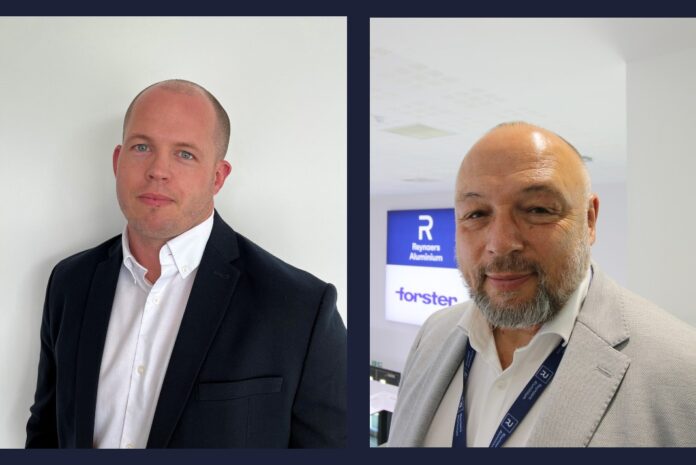 Staff at Reynaers Aluminium UK have welcomed two new additions to the commercial projects team: Jordan Kingman and Bob Snelling.
Taking up the role of national frameworks and supply chain manager, Bob has previously worked in strategic roles in the industry for four decades. At Reynaers UK, Bob is to focus on developing relationships with strategic partners in the supply chain.
He said: "Working in true partnership closely together with trusted strategic partners is absolutely essential in maintaining the highest standards through strong communication to keep projects on track. Reynaers is a company with an excellent reputation for the systems it creates and the service it provides. I'm looking forward to getting on board with the developments Reynaers is involved in and supporting service excellence at every level."
Jordan has joined the Reynaers UK team as consult manager for the south west and London. He has an MSc in façade engineering and has worked in specialist roles in the aluminium industry for the past 17 years. At Reynaers, Jordan is set to work with key stakeholders to provide design, technical and specification support on architectural projects.
He said: "Reynaers creates industry-leading façade systems for projects that help to transform skylines. I'm looking forward to being a part of this, supporting customers with the technical expertise I have to offer."
Richard Hall, Reynaers' managing director, added: "Bob and Jordan have the qualities and technical know how to support and develop Reynaers' commercial network. Knowledge and innovation are essential to our ethos of creating systems that support sustainability whilst achieving maximum performance and aesthetic excellence. It's through our people that Reynaers is able to deliver this.
"We are delighted to have both Bob and Jordan on board, and we welcome them to our growing team. Together for better."
Read more about the Reynaers UK commercial team on this webpage.