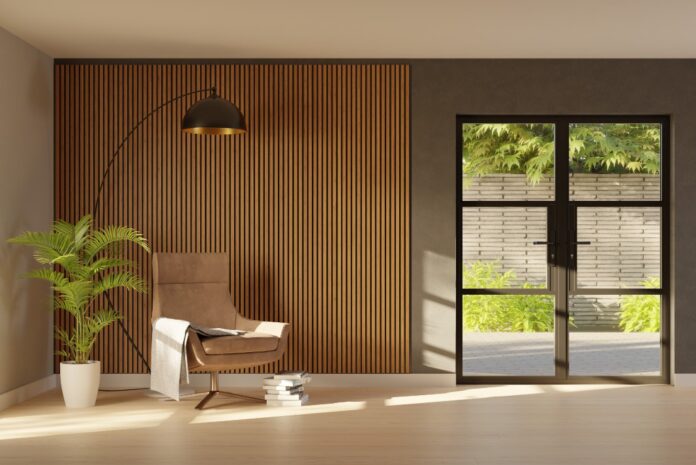 Sheerline's slim 'steel-look' Classic heritage door is marketed as the perfect, stylish addition to the brand's thermally efficient Classic aluminium window range. Featuring the brand's signature 'stepped' look, these 'iconic' doors feature a unique lockbox design, visible on both the interior and exterior, and are available as either single or French doors.
"The door is perfect for both ultra-modern homes where owners are focused on allowing in as much natural light as possible, as well as for period properties where people want to renovate for improved thermal performance and security while retaining a building's original charm," said Sheerline's representative.
"Inspired by the art deco movement as well as turn of the 19th century industrial design, ultra-slim aluminium doors are increasingly popular with style-conscious homeowners looking to add the wow factor to their renovation or new-build project while creating a clear visual difference to the old products they are replacing.
"A fully integrated part of the Sheerline offering, Classic heritage doors are designed to 'perfectly match' the rest of Sheerline's stepped range, allowing you to specify bi-folds and patios alongside either slim Classic or versatile Prestige windows to deliver a high-quality, consistent aesthetic across a project.
"Available now, these stylish, secure, design-led doors have sightlines as slim as 60.5mm, to maximise views and flood interiors with as much light as possible. In addition, they are Part-L-compliant as standard, as you would expect from Sheerline because of the use of the company's proprietary Thermlock technology.
"Thermlock uses an integrated multi-chambered system which improves thermal performance when compared to systems that use polyamide thermal breaks, enabling the company to achieve high-performance U-values of 1.4 W/(m²K) when the Classic heritage door is double glazed, and an A+ Door Energy Rating. This is in line with the company's no-nonsense approach to delivering high-performance that is easily achievable – an important feature for Sheerline's customers and homeowners alike."
The business' commitment to energy efficiency is set to help the UK move towards the 2025 Future Homes Standard – a key part of the government's strategy to reduce carbon emissions in new and existing properties.
Roger Hartshorn, Sheerline's CEO, said: "Back in 2019 we launched our very first products from the Classic range. It was the culmination of years of experience, hard work and a desire to change the aluminium industry to make it better – more reliable, stylish, secure and sustainable.
"The fact that we have completed the Classic range with our new Classic heritage door shows how far the Sheerline brand has come in a short space of time. It reflects our ability to be versatile and agile, to create design-led products that remain practical, stylish and sustainable.
"We go above and beyond what our customers expect of us, and continually challenge the aluminium industry so that it is better for all our customers across the UK," he added.
Fabricators are invited to contact the Sheerline team directly to discuss adding this product to their sales offering. Call the team on 01332 978 000 or email info@sheerline.com. Alternatively, visit the website to view the new Classic heritage door range.