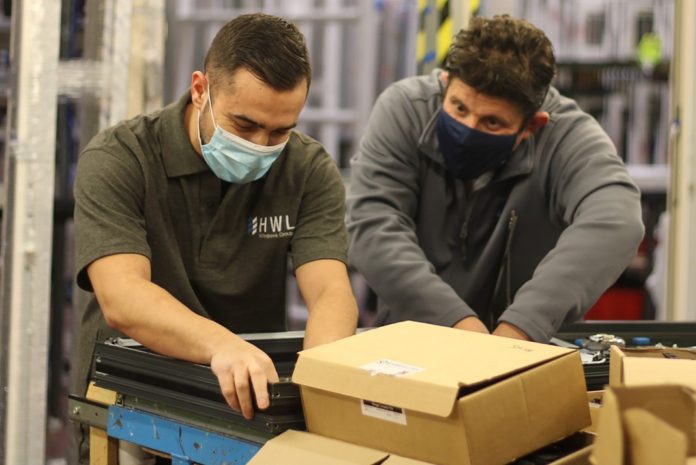 Nordic Aluminium, a division of the HWL Windows Group, has praised Garnalex's innovative aluminium system, Sheerline. Sheerline won one of GGP's first-ever Installer Awards in March, for 'Best Technical Innovation'.
Nordic Aluminium has been operating for almost 20 years. The company wanted to apply its experience and knowledge of selling high-value PVC-U windows to an aluminium window and door system packed with unique benefits for customers.
Graham Howatson, Nordic Aluminium's director, said: "Windows are becoming more of a boutique product, and many homeowners want something different than standard PVC windows. We were blown away by Sheerline, and think it will have a similar impact on the aluminium window market as Residence Collection had on the PVC sector. We were interested in the simplicity of the system design, the added value it brings to homeowners as well as its innovation and availability of stock. Sheerline will change the market, without a doubt.
"Sheerline's product innovation is streets ahead of the competition. It's easier to manufacture, has improved material optimisation due to the design of the assembled profile, and its choice of colours will allow retailers and installers to simplify their product offerings and have greater control over the whole process. The U-Value performance is a huge factor as well. Sheerline exceeds current building regulations and is future proofed against planned changes."
Graham continued: "Sheerline's design is clever, with fewer components and lower stock holding requirements. The patented thermal breaks are of major benefit and will eventually lead to the roll-out of our own material, resulting in better optimisation and improved availability. The choice of standard colours has also been well thought out: we have found that Agate is a really popular finish, so it's great to have that as a standard colour option.
"Customer support always seems to be at the forefront of Garnalex' thoughts. They go above and beyond and really see the importance of building long-standing relationships."
Founded in 2018, Garnalex's innovative system, Sheerline, is the result of the company's mission to revolutionise the aluminium windows and doors market. Sheerline's first system, Classic, is an ultra-secure, beadless aluminium window system, packed with features that bring benefits to fabricators, installers and homeowners. Its second system, Prestige, is Sheerline's most versatile and thermally-efficient system, with window U-Values as low as 0.9 W/(m²K) for triple glazing and 1.3 W/(m²K) for double glazed, and includes single and French doors.
Roger Hartshorn, CEO of Garnalex, said: "We're delighted to have such a fantastic response from a respected company like Nordic Aluminium. And I'm really pleased when customers say that we're achieving what we set out to do – to transform the aluminium windows and doors market. Each step of the process, from product design to service and support, has been reinvented with fabricators, installers and, of course, the homeowner in mind. We've invested in innovation at every level to ensure customers receive the end-to-end experience they want and deserve."
For more information about Nordic Aluminium, visit www.nordicaluminium.co.uk or www.hwlwindows.co.uk. You can also find the business on LinkedIn.
To learn more about Sheerline, visit www.sheerline.com and www.sheerlinevideo.com. You can also call 01332 883 960, email info@sheerline.com, or follow @SheerlineSystem and @GarnalexSystems for the latest news and updates.