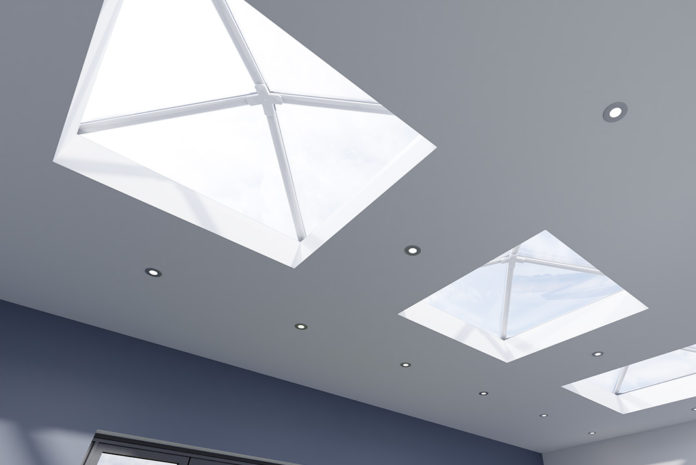 The Aperture Group has announced the launch of the Stratus 4-Way lantern roof, extending its range of 2-Way, 3-Way and contemporary options. Available in both bar length and kit options for square constructions up to 2m x 2m, customers have a choice of powder coated finishes in traffic white (RAL 9016) or anthracite grey (RAL 7016) on the exterior and interior.
Robin Baker, managing director of the core Aperture business, commented: "We're delighted to bring to market another installer-friendly product that represents the very best in British engineering. Every element of the Stratus thermal lantern roof range has been designed to be exceptional and the Stratus 4-Way is no different.
"Conceived from the ground up around an innovative fully thermally broken system with the architectural refinement you'd expect from a high-end aluminium lantern roof, Stratus offers a host of benefits which our customers can market and sell to end-users. It's up to 65% more thermally efficient than other lanterns on the market and with its 2000 pitch and discreet top caps and internal covers, the end result is a super modern, clean look with no unsightly gaps to rafter ends
"We've also designed a 66% smaller ridge than standard systems which results in stunning aesthetics and better sightlines. It has a hard-wearing aluminium exterior which gives it a premium, architectural look while still being easy to install. In keeping with the trend for contemporary design, Stratus 4-Way is available in a choice of Traffic White or Anthracite Grey and glazing options include Self Clean Blue, Celsius Clear, Celsius One and Celsius Elite.
"The launch of Stratus 4-way to complement the other Stratus lantern roofs available, is indicative of Aperture Group's commitment to invest and introduce new products that the market needs and wants. For example, our product development team is already focused on designing a commercial option for the Stratus range, in response to customer demand. We will continue to develop further innovations that fabricators and installers tell us give them added-value sales opportunities and which differentiate their offering from others."