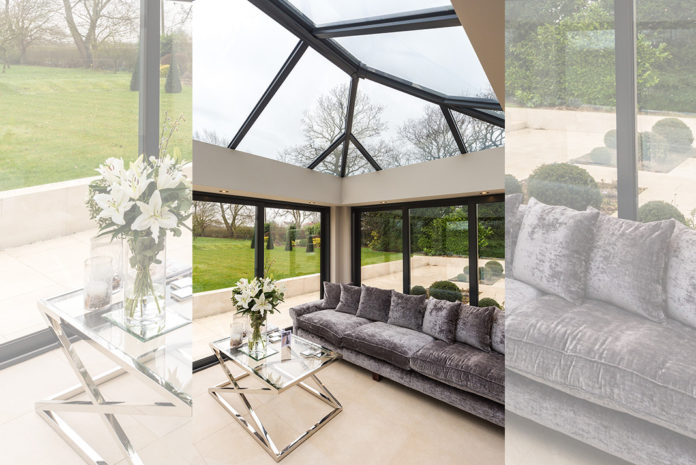 Ultraframe has expanded its glass offer with the addition of the Celsius range of performance glass, which is now available in addition to its longstanding Conservaglass range. Both ranges are available in a number of specifications and colour options.
The glass specifications that are now available across the Celsius and Conservaglass ranges have been organised into four tiers. Ultraframe says that the information is presented in a simple to understand table designed to make it 'fast and easy' for customers to choose the right glass for their project at a glance.
Ultraframe marketing director, Alex Hewitt, said: "Ordering sealed units from Ultraframe is simple and easy, which reduces the number of suppliers you need to deal with, as well as providing you with specialist support in choosing your glazing requirements. With the recent addition of the Celsius range to our existing Conservaglass glazing offering, we can now offer an incredibly comprehensive range of sealed unit options in a large variety of specifications and colours. We understand that ordering roofs and glass from different sources can cause issues, and so with one call, our customers can get it all. Having been established in the conservatory roof sector for over 35 years, it's fair to say that we know about glass shapes, and all of our Conservaglass and Celsius sealed units are delivered from our specialist roof glass factories in 5-7 days. This latest addition to our range makes it easier than ever before for people to switch to Ultraframe – especially for those customers who use Celsius already."
The combined Conservaglass and Celsius range offers glazing in 'U' Values from 0.9 up to 1.2, and a range of light transmission, solar rejection and UV rejection values. All specifications are argon filled with warm edge spacer bars and self-clean or easy-clean properties and come with a 10-year warranty.
Alex said: "It's a clichéd phrase but we're thrilled to be able to offer a true one stop shop for conservatory roofs and glazing. The Celsius glass range has a strong reputation in the industry and it's fantastic news that our customers can now choose from this, or our Conservaglass range and get their glass and conservatory roofs all from one source."