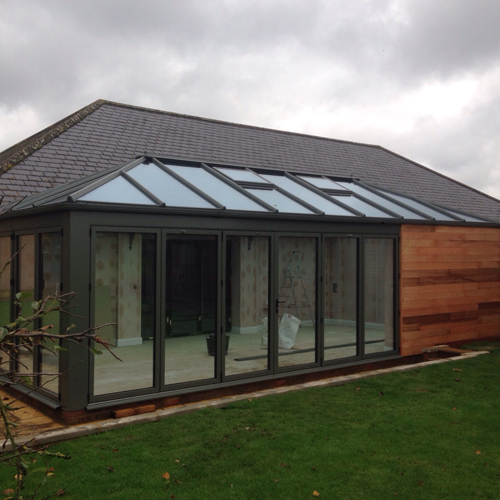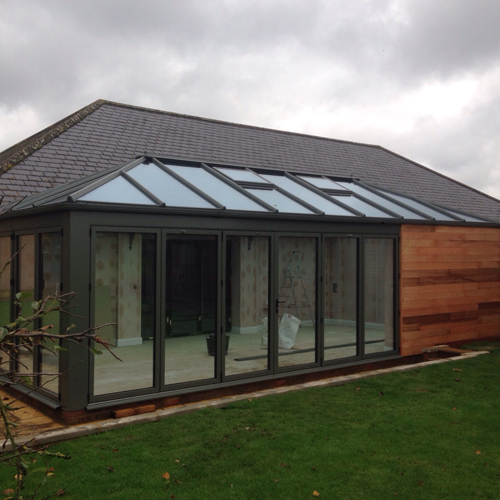 When Northamptonshire based installer, Wollaston Windows, was faced with an 'especially challenging' conservatory project in Little Houghton, it says it knew it could rely on its trade supplier, Astraseal, for full support. Working closely with Astraseal, Wollaston Windows installed a bespoke conservatory, fully fabricated by Astraseal.
The brief from the homeowner required a combination of aluminium bi-folding doors, a bespoke roof system and high performance glazing, with a specific RAL colour chosen for the external and internal finish. It was imperative that the sightlines remained consistent throughout the roof and frames, meaning it was essential that the complete building could be designed and manufactured by the one supplier. Calculations were carried out to enable the manufacture of a steel support frame as both the front and side elevations of the conservatory were to be manufactured using the Smarts Visofold aluminium door system. The roof was specified to include Pilkington active glass units and automatic roof vents.
RAL7009 was the chosen colour, with the aluminium bi-folding doors powder coated and the roof, gutter and all bespoke cladding sections spray painted by Astraseal in its own spray booth.
"This had the potential to be quite tricky but thanks to Astraseal's support, the installation ran like clockwork," said Wollaston Windows MD, Brian Henson. "Astraseal offers a full technical support package from start to finish. One of the key benefits is how it pre-assembles the conservatory in its factory beforehand, meaning we knew it would fit together perfectly when out on site. Due to an unusual tile detail, where the new conservatory had to meet the existing building, a bespoke box gutter was designed by Astraseal, this was welded on site to form a one piece seamless gutter to run the full length of the building. The fact they can spray everything in-house was perfect for this job and meant we could go back to our customer with really competitive lead times and costs."
"We were delighted to work with Wollaston Windows on this project," commented Zac Nedimovic, Astraseal marketing manager. "As ever, we strove to do as much of the assembly work as possible ourselves, leaving the customer to focus on doing an excellent installation.
"Wollaston Windows did a fantastic job, and we're really looking forward to working with them on other projects in the future."