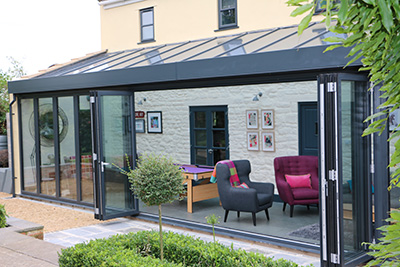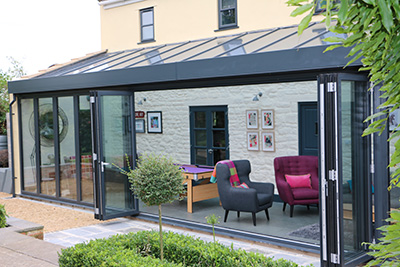 Atlas reports that there has been 'a late burst of entries' for its Installation of the Month competition as Atlas installers jockey for their final chance to take a prize at the Atlas Installation of the Year awards in January.
Entries are said to have 'poured in' during November with more than double the average number of entries from hopeful contestants.
During the year, the judging panel has been impressed with some terrific Atlas orangery, lantern, conservatory, veranda, lean-to, flat rooflight and Skyroom installations.
One installation in Wells, Somerset, by Mendip Conservatories captures just how versatile the Atlas Skyroom can be. The owners wanted to add a luxurious orangery style extension to the back of the property and had a very clear vision for it – it had to have the look of an orangery, it had to feature a lean-to roof and it had to be aluminium. Mendip worked on a design to satisfy the client's desire for the unconventional and developed a bespoke Skyroom design, which incorporated a lean-to Atlas roof.
Kim Eyres, owner of Mendip Conservatories, said: "This is a lovely installation and one which really shows what can be achieved with the Skyroom. Our designers worked closely with Atlas throughout the project to ensure that it could be adapted to this very individual application. We're really proud of the end result and the client now has an amazing new room."
Another unique design, which won the Atlas competition in October, married two 13.5m long lean-to Atlas roofs together on neighbouring properties in Cardiff. The owners live in a conservation area and were restricted with what they could do to the front of the buildings, but there were no limitations on what could be achieved at the back.
The final design featured two identical glazed extensions on the back of each property, with a lean-to Atlas roof above each one. The grey on white roof features more than a dozen glazed roof panels, three of which are motorised to provide ventilation, and Pilkington Active Blue self-cleaning glass.
Winners of the Atlas Installation of the Month receive a £200 Screwfix voucher and a £50 Majestic Wine voucher, 'unmatched' trade industry PR, plus entry into the award finals where one overall winner will be chosen as the coveted Atlas Installer of the Year at the gala event on 20 January. All entries receive an Atlas thermal mug when entering their completed installation pictures.