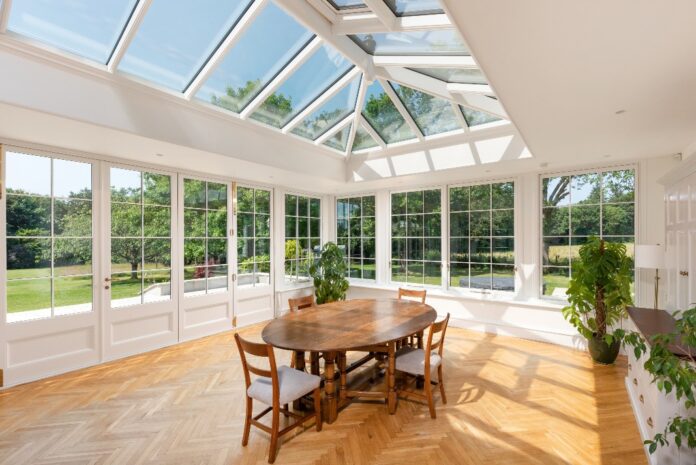 A team from Hampton Conservatories has collaborated with the glass specialists at TuffX to provide an elegant conservatory for a homeowner in Coleraine, Northern Ireland. The team installed an eight-pane, timber, glazed conservatory while the customer provided bifold doors and a roof lantern for the job, aiming to create 'the perfect space to entertain and enjoy whatever the temperamental summer weather the country's north coast might bring'. Finished in brilliant white, the new room matches the grandeur of the large, detached property and gardens.
The orangery and conservatory specialist Hampton Conservatories has been a TuffX customer for two years, after initially being impressed by the firm's reliably good lead times. The Hampton team ordered 26 Ambience glass units to complete the roof lantern. These units used a combination of 4mm clear, low-E toughened glass panes and 4mm self-cleaning, clear toughened glass. The latter product remains cleaner for longer, we have been told, and delivers optimum clarity, keeping maintenance to a minimum for the owner.
"The customer was after an indoor-outdoor feel with lots of light, extending the property out into the generous garden to better enjoy summer evenings," explained Mervyn Montgomery, Hampton Conservatories' managing director. "A roof lantern gives the room additional height and light, and TuffX's Ambience roof glass guarantees high performance in terms of temperature control, durability, maintenance and aesthetics."
The new room is already proving popular as the team from Hampton Conservatories has received enquiries from the client's friends, who have been able to see for themselves what a light, airy yet temperate addition to a home that a conservatory topped with TuffX's Ambience roof glass can offer. For more information, visit tuffxglass.co.uk.
Click here to read about another installation project completed by Hampton Conservatories in collaboration with TuffX, this time in Buckinghamshire. The job saw the TuffX team step in to help when the Hampton team was experiencing supply issues. "We pride ourselves on being able to help where others can't," said Paul Higgins, TuffX's commercial director.