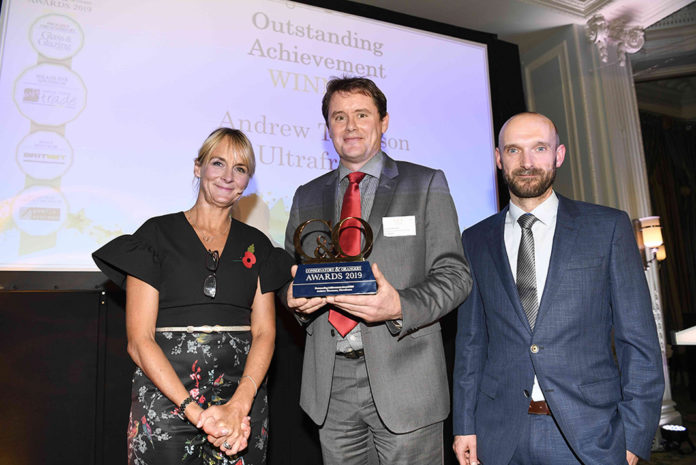 Ultraframe is celebrating its success at the inaugural C&O Awards, with wins in four out of seven of the categories for the company, its products and its retailers.
Andrew Thomson, Ultraframe's highly respected design and development director, was honoured with the Outstanding Achievement Award, with the judges stating that: "Ultraframe owes so much of its ongoing success to his innovations." Andrew's product innovations which have shaped the industry over the years include the development of the Ultraroof and Livinroof solid roof systems, Ultrapanels (which won an award in their own right), as well as system enhancements such as the Cornice and insulated pelmet.
Ultrapanel, a key component in the Ultraroof tiled roof system was the winner in the Technical Innovation category. Ultrapanels feature an I-beam to create strength as well as avoiding labour-intensive battening and offer unrivalled thermal performance. A true technical innovation, the technology is 100% unique to Ultraframe.
The Ultraroof system was a winner for a second time in the category of Installation of the Year (up to £35k), with a stunning p-shape installation by Ipswich based retailer, SEH BAC. Ultraframe retailer Hazlemere Window Company was also highly commended in this category.
Finally, the Best Refurbishment category was awarded to Bristol-based Ultraframe retailer, Mendip Conservatories, with a dramatic before and after featuring a Livinroof.
Ultraframe marketing director, Alex Hewitt, commented: "Myself and the whole team at Ultraframe are absolutely thrilled to see 4 out of the 7 categories awarded to Ultraframe, our products and our retailers – and of course, we're extremely proud of Andrew Thomson, our design and development director, who was honoured with an individual award for Outstanding Achievement. It was also fantastic to see our Ultraroof solid roof system being recognised with wins in two categories. Earlier this year, during independent research, we found that 8 out of 10 homeowners prefer Ultraroof over its competitors and it's now been recognised with two national trade awards which is the icing on the cake.
"Huge congratulations to our customers Mendip Conservatories and SEH BAC for their wins and to Hazlemere Window Company for being highly commended – these awards highlight their ongoing commitment to designing and building outstanding conservatories and extensions, using the most technically advanced products. We'd like to offer our congratulations to the other winners too and thank you to GGP magazine for creating an awards ceremony to celebrate the achievements of our sector."