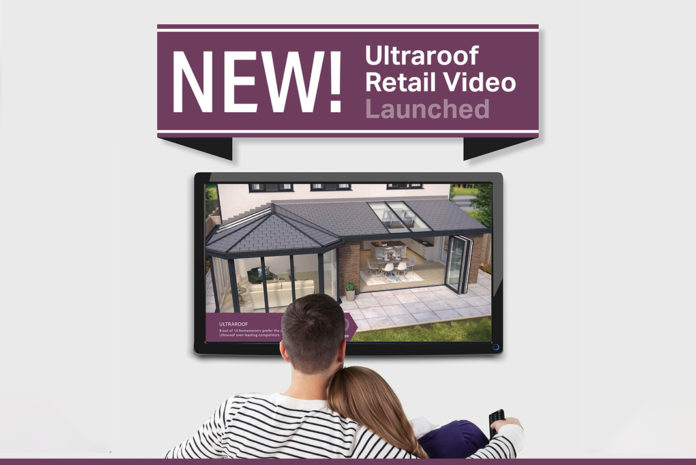 Ultraframe has launched the latest support tool to assist its customers with selling the Ultraroof tiled roofing system – a video which shows an Ultraroof roof replacement, step-by-step.
The video breaks down the process of upgrading an old conservatory roof with a thermally efficient Ultraroof, showing the different stages of the installation process, and explaining the features and USPs of Ultraroof. According to Ultraframe, the video is ideal for use by Ultraroof installers to explain and demonstrate the strength, aesthetics and thermal performance of Ultraroof to potential customers.
Ultraframe marketing director, Alex Hewitt, said: "A lot of work has gone into the production of our new Ultraroof consumer video and the feedback from customers has been fantastic. The video is available to view on our YouTube channel, but we would also encourage our customers to add it to their own websites and social media channels and use it as part of their Ultraroof sales process. In addition to the standard Ultraframe/Ultraroof branded version, there is also the option for us to personalise the video with our customer's own branding should they wish.
"The new video joins the wide range of sales support materials available, including ready-to-go marketing campaigns and high quality literature which can be fully personalised using Ultraframe's Cuckoo online marketing centre, access to a database of professionally shot Ultraroof images, and case studies showing how Ultraroof can transform even the most tired conservatory into a beautiful and thermally efficient new room," she continued.
In addition to the sales support available to Ultraroof users, surveying and installation assistance is also available and includes surveying and installation training courses that can be tailored to the needs of each company, a dedicated product manager and team of engineers to provide on-site support, a range of printed and video how-to guides, and access to a team at Ultraframe HQ to answer queries by phone, email and even WhatsApp.
View the new video