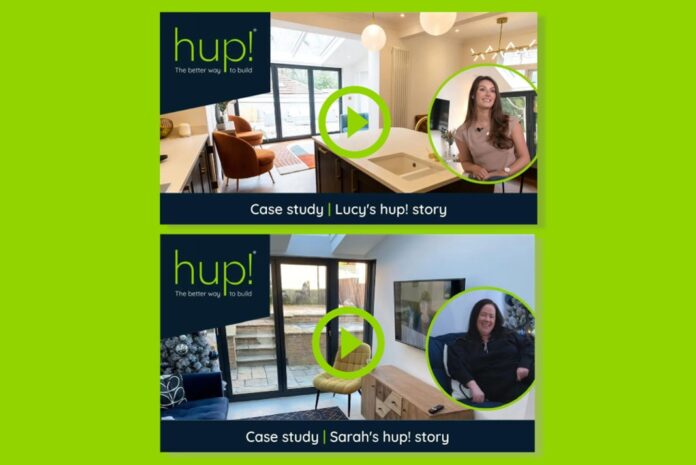 Ultraframe has launched two 'hup!' homeowner testimonial videos, aimed at explaining the benefits of choosing the 'hup!' building system. The videos are available free of charge to 'hup!' builders for use on websites and social channels, according to Ultraframe's representatives. They can also be viewed on Ultraframe's consumer website.
One video features Lucy, who had a new-build 'hup!' extension added to her home. This created a large, open-plan kitchen and socialising space. Alex Hewitt, Ultraframe's marketing director, also features in the video, detailing the technology within the system.
The other video features Sarah, a homeowner who explains how her and her partner transformed their unused conservatory into a modern, open-plan extension that is now 'the heart of their home'. Grant Proctor, a builder at MI Construction NW, said that this was the company's first ever 'hup!' build. "He explains the ease of building with the system, even saying he can't wait to ditch his trowel now he has discovered 'hup!'," representatives of Ultraframe have said.
"The 'hup!' system was designed to overcome common concerns that homeowners often have before undertaking projects such as Lucy and Sarah's. This includes managing different tradespeople on site, escalating budgets, unforeseen weather delays and the mess and disruption that traditional building work can create in and around the home," added Ultraframe's representatives.
For more information about these videos, and other additions to the 'hup!' support package, email the Ultraframe marketing team at marketing@ultraframe.co.uk. Information about the 'hup!' brochure is accessible here.