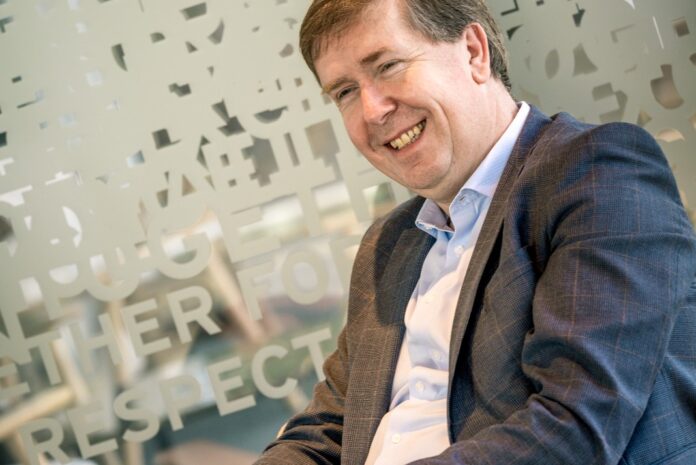 Bert Geerinckx has been appointed CEO of Reynaers Group, effective from 1 March 2023. Bert has worked for Reynaers for more than 13 years, of which the last five were spent as chief sales officer. Before that, Bert was general manager of Reynaers Aluminium Belux, Reynaers Group's home market, for eight years.
"I take over the leadership of the company with enthusiasm, knowing that I can count on a strong organisation with motivated and competent colleagues," Bert stated. "I am also happy to continue building sustainable growth in these challenging times by focusing together on our customers and partners. Together for better!"
Bert graduated with a Master of Science in Building Engineering and obtained an executive MBA from the Antwerp Management School. Before his career at Reynaers Group, he gained extensive experience in various sectors of the construction industry, including at Gyproc, Strabag and Rockwool, in marketing, business development and general management.
Jean-Luc Deleersnyder, who chairs Reynaers' board, said: "Bert's long track record guarantees continuity and stability while, as the new man at the helm, he will undoubtedly also bring new dynamism. His good relations with our customers are an additional asset. The board of
directors is therefore convinced that this change at the top will support the further successful growth and performance of the company."
Bert is to succeed Dirk Bontridder, to whom Reynaers' board of directors is grateful, especially for his contribution to steering the company through the height of the Covid-19 pandemic, and for his strategic leadership on matters including sustainability. Dirk will continue his career in the international healthtech context.
Richard Hall, managing director of Reynaers Aluminium UK, added: "On behalf of the Reynaers UK team and myself, a big congratulations to Bert on his new position as CEO. Having worked closely with Bert in his role as chief sales officer, we look forward to continuing to do this in his new role as CEO. I'd also like to extend thanks to Dirk Bontridder for his time as CEO and we wish him all the best in his future endeavours."