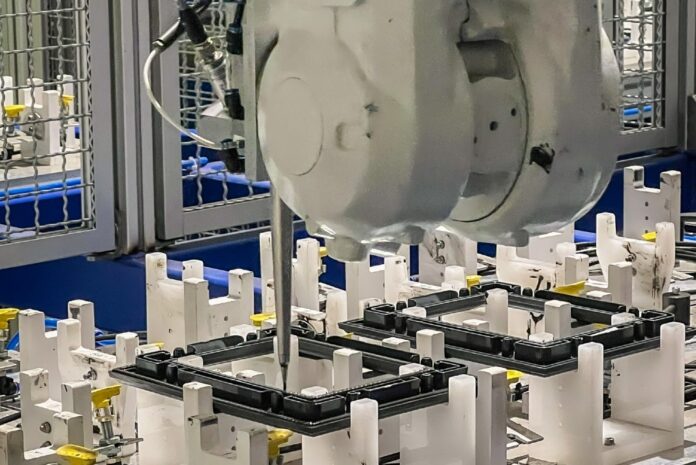 Doorco has installed an on-site robot line to apply its Foam in Place technology: a unique feature of its innovative glazing cassette system, Flip. Foam in Place technology reportedly delivers a superior seal, which is why DoorCo has further invested half a million pounds to massively increase production volume and resilience, and to drive down lead times.
Dan Sullivan, DoorCo's MD, explained: "Flip has had a significant impact on our business, and is now used as standard across our entire range. Delivered against a turbulent backdrop, Flip has given us greater control over the supply chain, ultimately allowing us to offer better customer service, because it's accessible and we're able to maintain a good stock holding. This in turn is reducing our lead times.
"To improve this situation further, we have made further investments to significantly increase our production capacity for Flip, with the addition of an on-site robot line to apply Flip's unique Foam in Place technology (FiP). FiP technology is a foam seal applied by machine to the outer frame during manufacture, to deliver a superior seal and negate the need for hand applying glazing tape – a painstaking stage in the door glazing process – saving customers time and cost.
"Fip saves, on average, three minutes per cassette installation, and removes that additional component cost. It performs better too, as it eliminates the risk of gaps, particularly in the corners where water ingress is often an issue. Fip's uniform seal prevents any water ingress, which was proved during testing, where it performed exceptionally well, easily meeting the BS6375-2015 and EN1027 standards, and, most impressively, achieving over 1000pa through the glazing aperture during weather testing. This is further supported by DoorCo's extended 10-year warranty.
"Customers are enjoying how much Flip is enhancing their composite doors offering. Flip not only performs well, it's easy to install and comes with a refreshing choice of designs, which are unrivalled on the market. In the range, there are two unique profiles, two new surface textures that have been painstakingly matched to our door finishes, three overall designs, and 23 style variations. From clean, modern profiles through to traditional bevels, there is an option for any style of composite door with Flip Standard, Flat Grained and Flat Stipple.
"Flip is delivering a world of choice to our customers. From our wide range of styles for traditional, contemporary and designer composite doors, its well-thought-out design is improving weather performance and production efficiencies. Importantly, there is a good level of stock on the shelves, supported by a consistent and reliable supply that is under DoorCo's control.
"Flip will be featuring on our stand, Q11 at the Fit Show in May. Come and visit us to find out more about Flip, and the other products in the DoorCo portfolio. If you don't want to wait until then, talk to us today by calling 01625 428 955, or visiting door-co.com/flip. It's time to Flip."