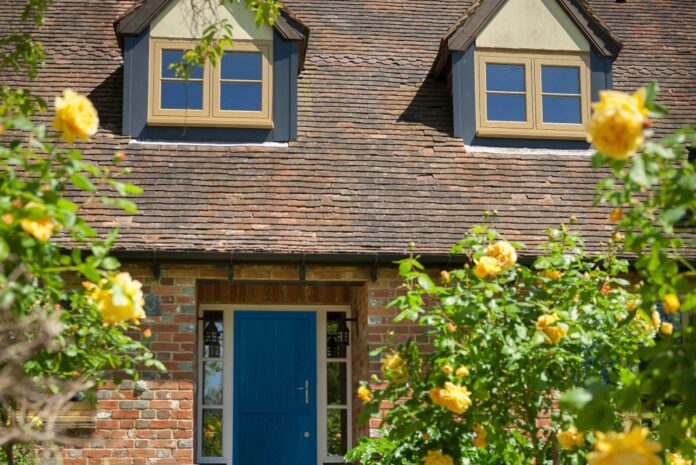 Solid doors from the new Residence Door Collection by Apeer can achieve a U-value of 0.51 W/m²K, formal test results have revealed, which is better than Passive House Institute's standard of 0.89 W/m²K. It is hoped that the Residence Door Collection by Apeer, which includes doors with glass cassettes, will also comfortably outperform the anticipated requirements of the Future Homes standard for new-build homes.
The results of the formal testing place rhe Residence Door Collection by Apeer in the highest tier of of thermal performance for residential doors that are currently available in the UK home improvement sector. Complementing the Residence Collection's windows, each door is 120mm, from the front to the back of the door product.
Traditional, contemporary and stable door designs are included in the range, with 78mm quadruple-sealed glass units as standard, where relevant. Construction utilises GPR skins around a high-density PU core, reinforced with aluminium anti-cut through security mesh embedded within the core of each door. Performance can be further enhanced by weather deflectors, and Stormguard or full-frame thresholds. Every door, including skins and glass units, is to be manufactured by Apeer at its 120,000ft² factory in Ballymena.
Aimed at the premium sector, the range at launch comprises nine standard colours (seven grained and two smooth). Full sidelights and top lights are available while half lights and others are to follow. High-quality hardware and furniture reflects the quality of door construction. Extra touches such as the Ultion KeyTag-equipped, 'Apple Find My' trackable keys complete the comprehensive standard specification of Apeer's door offering.
The Residence Door Collection by Apeer is the result of a collaboration aimed at producing a range of residential doors that complement Residence Collection windows. The products are to widely available on the open market through Apeer (apeer.co.uk).