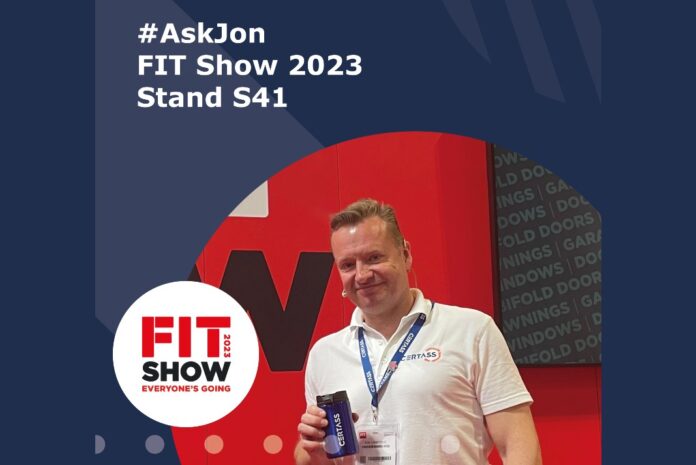 Jon Vanstone, an industry expert and chair of Certass, is to host a series of masterclasses focussing on the Building Safety Regulator (BSR), for attendees of next week's Fit Show trade exhibition. Attendees are invited to the Business Pilot stand, S41, throughout the show, where Jon is to give midday talks on Tuesday 23 and Wednesday 24 May. Jon is also scheduled to speak as part of the panel debate on Wednesday, at 4.20pm in the show's seminar theatre.
As well as his Certass role, Jon is chair of the Interim Industry Competence Committee (IICC) for the BSR, and chair-elect of the National Home Improvement Council, so he brings exclusive knowledge, information and more than two decades of insight to the industry. Fit Show visitors can join one of Jon's sessions to get the latest accurate information about building regulations, updates to competency rules and advice on how to stay compliant from the sole representative for glazing on government committees.
Jon is to be supported by Certass' managing director, Jason Clemmitt, and technical officer, Thomas Jeavons, who are both planning to be on the Business Pilot stand with Jon throughout the show. "It's a pleasure to be joining our friends at Business Pilot at this year's show," said Jon. "It allows their customers, partners, Certass members and other visitors to get information first-hand concerning the specific skills, knowledge, experience and culture expectations from the IICC and BSR.
"I'll be available to chat with visitors on the Business Pilot stand throughout the show, and deliver a BSR masterclass on Tuesday and Wednesday at noon. I'll run you through a short presentation with the key information on BSR, followed by a live Q&A."
Jon's industry expertise also forms part of the FIT Show seminar programme, as he features on the 'Driving Consumer Confidence Through Competency' panel debate, which is scheduled for 4.20 pm on Wednesday 24 May. "Further changes to approved documents are happening," Jon added, "and a much greater focus on proving competence forms part of the new regulator.
"The information I share at the show will help visitors understand new expectations which will be placed on them as installers, the timeline of when changes come into action and advice on how to remain compliant." Visitors are additionally invited to submit questions to Jon on social media using #AskJon.