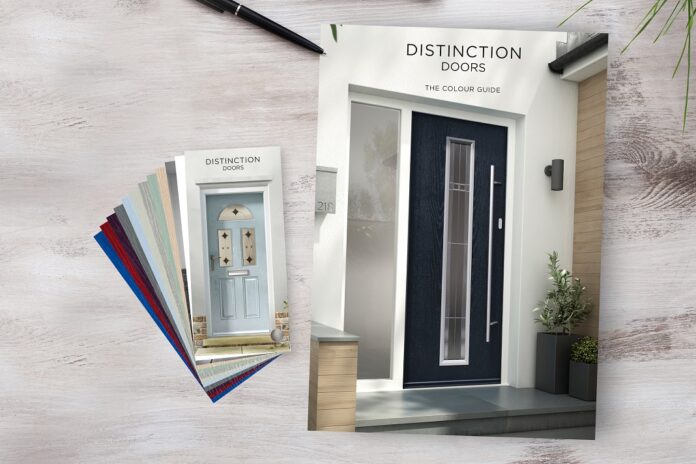 Distinction Doors has introduced a new fan book featuring 31 true-to-colour leaves, each embossed with the woodgrain effect of the company's doors. For accurate representation, the colours have been matched to the Distinction paint range and approved by the company's paint supplier.
Bethaney Larkman, Distinction Doors' marketing manager, said: "This is the most important factor in producing a colour fan book – the accuracy of the colour representation. I am pleased to say that we have such confidence that the fan book can be used as a B2B control sample in the factory as well as a B2C showroom sales tool."
The fan book is designed to honour the company's premium position in the marketplace, business representatives have said. This is reflected in the paper stock and high quality embossing.
Bethaney added: "While the fan book may only be a sample, giving a snapshot of what we can deliver. It's vital that it captures the superior finish often associated with our products, something which our customers frequently comment on."
Visualisation tool
The fan book has a large surface area which allows for the colour leaf to be placed against a door to help the consumer visualise the final finish. Equally, it can be fanned out so that customers and consumers can display and choose between colour options.
"Another special feature is the insertion of three transparent leaves, each with a sketch of either a nxt-gen, signature or contemporary door style. These can then be overlaid on the colour leaves which again, will allow customers and consumers to get a better idea of how the door will look," Bethaney continued.
New colour guide
Distinction Doors has also unveiled a new colour guide, alongside the fan book. A4 and printed on uncoated stock, the new colour guide is an extension to the company's new-look product brochure. In the colour guide, 30 true-to-colour chips are displayed across the centre fold and represent the standard and bespoke colours of the Distinction Doors colour palette.
Bethaney added: "As the first door supplier to introduce skin books into the industry, we are very aware of setting the standard. The colour guide is a quality sales and marketing tool and a valuable addition to our literature suite.
"We are market leaders, not just in door volumes but in many aspects of our business, marketing included. We are always looking for ways to improve the business and our service and often this acts as a driver for innovation and reinvention. So we are proud to introduce an industry first – each colour leaf in our new fan book is embossed with the woodgrain definition of our doors. This makes them unique to us."