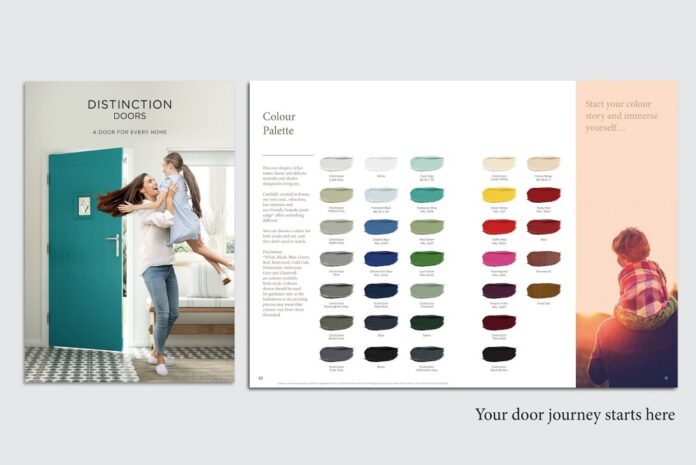 Distinction Doors has launched a brochure that reflects its updated branding. The brochure is the first marketing tool to be released after the rebrand.
The new brochure has been designed to enhance the consumer experience. This comes after independent research revealed that the company's sales tools must increasingly work for customers of Distinction Doors.
Guide to choosing a composite door
There is a brief guide to composite doors, starting with the bespoke paint range where readers are advised on colour trends and options. The door ranges are then broken down into three sections (nxt-gen, Signature and Contemporary) highlighting popular door styles within each range.
As there are over 300 door styles to choose from, consumers are directed to the full door range, expressed in a table on pages 60 and 61. These can also be viewed online using the door designer configurator.
The brochure also highlights benefits including Secured by Design approval of the 44.5mm nxt-gen and Signature door ranges. In addition to the online door designer, a new Distinction Doors website is due to launch later this summer.
The company also announced the introduction of six new colours to its paint colour palette on 1 April. People who use the Distinction Doors design boutique will receive a brochure update in due course.
Bethaney Larkman, marketing manager for Distinction Doors, explained: "It's a brave new design that's very different from our familiar product directory brochure. The content is radically different, and we have focussed on our USPs to target strongly against the competition.
"Factors such as design and packaging are vital elements in the buying psychology of premium products so it's essential that we arm our fabrication customers and their customers with the right tools. We have switched to a larger, reader friendly A4 format. It has been printed using vegetable-based ink on uncoated FSC-certified and carbon-balanced paper for a premium look and finish.  We have also been selective in our choice of printer, to minimise the environmental impact of our printed literature."