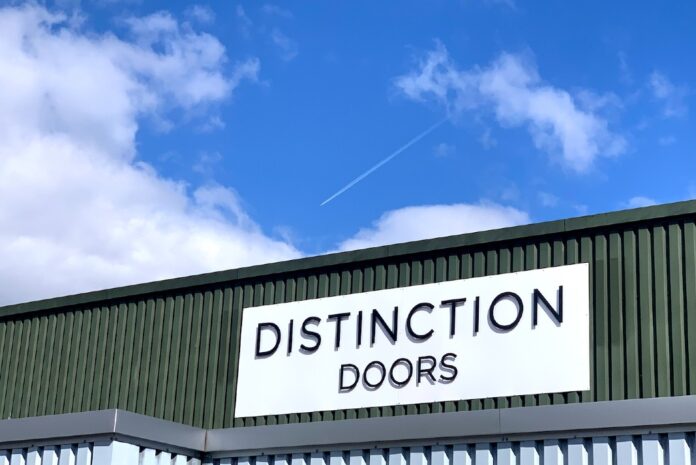 Distinction Doors has unveiled a new brand identity, aimed at reflecting its premium position in the marketplace, and to better appeal to the consumer market. Instead of the blue and grey Distinction Doors logo, with a door surround, the identity is now 100% black, and uses a geometric sans-serif typeface called Gotham Book. The typeface is inspired by architectural signs of the mid-20th century.
Bethaney Larkman, marketing manager for Distinction Doors, said: "Updating our brand identity represents how we as a business are evolving. We have strong business recognition in the trade sector, but independent research proved that we also needed to elevate the brand and create consumer pull for our customers.
"Our refreshed look – created in-house by our design team – is more premium. It works across multiple touchpoints while staying true to our values and core business. It's also representing a statement of intent, proving our commitment to supreme quality, both inside and out, exceptional value, service and experience."
The new look has been displayed on the façade of the company head office and factory in Barnsley from 4 April. Digital channels have also been switched, and the new visuals are being rolled out for use on stationery, literature, vehicles, displays and point-of-sale materials.
"We are working furiously on new marketing materials, including one of our most valued and well-used tools, the door designer configurator," added Bethaney. "This is being updated now, and we hope to roll this out very soon. A new website is also due to launch later this summer. Plus, we are making good progress with brochure updates for those who utilise our design boutique."
The company has also announced the launch of a new product brochure, designed to enhance the brochure experience for our customers and end users. The paint colour palette has also been updated with six new colours.