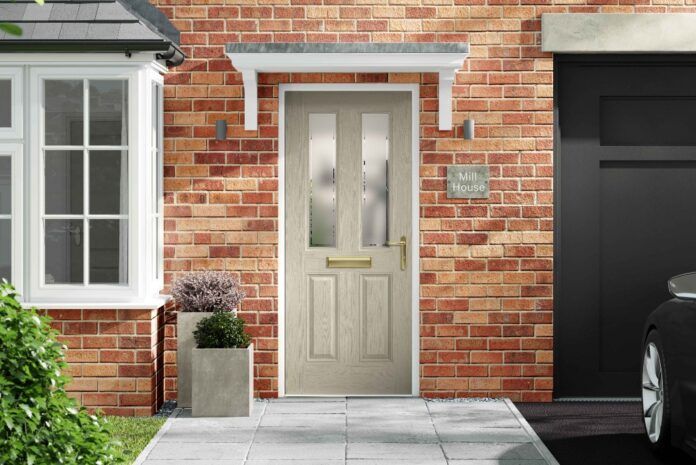 The Distinction Doors team has introduced two new decorative glass designs to the business' range: Chatsworth and Wentworth. Both combine satin glass with clear detailing.
Wentworth features a 25mm-wide clear border around a satin centre. Chatsworth has a 7mm clear pencil border that is inset 25mm from the satin edge.
The classic designs are intended to complement the company's popular door styles. Chatsworth and Wentworth are available in sizes to fit the complete 'nxt-gen' range and 'Signature' equivalents, and as long glass panels for the '6P' contemporary door styles.
"The easy-clean satin finish obscures vision, offering homeowners a high level of privacy while affording excellent light transmission so that homeowners can enjoy their privacy without compromising on light," Distinction Doors' representative reported. "The composition of each glazed unit – laminated, low-E and double glazed – means that they both offer excellent thermal performance particularly when fitted into a thermally efficient Distinction door."
Emma Fowlds, marketing executive, added: "Since launching the Distinction decorative glass range in 2016, customer demand has risen exponentially. Our glass is valued for its quality, the wide variety of designs and its performance.
"Today, glazing is one of three core services in our fully prepped offering, alongside prep and paint. We enjoy strong sales across the range. Our customers appreciate our stockholding, knowing they can rely on the availability of Distinction decorative glass.
"These two new designs meet a demand for clean, simple and contemporary glass styles that are fuss-free and maximise light. They are proof of our commitment to deliver customer satisfaction and give homeowners more of what they want."
Both glazing options are to be made available to order from the Distinction Doors customer portal. Read more about Distinction Doors online at the business' website.