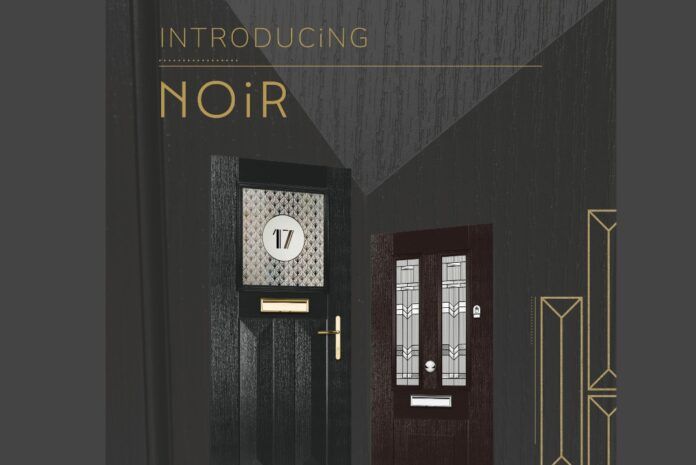 The DoorCo team has launched its Noir Collection and expanded glass range. Designed to bring the new Eaton door slab to life, Noir is a curated collection of glass and colour options.
"The Eaton door slab was borne from the unwavering desire for traditional and old-time classic door styles," said Ellie Pool, DoorCo's marketing manager. "Thanks to some clever engineering, the Eaton slab is also really versatile, producing 6 prepped door design options from just one slab.
"We think it's pretty special and warranted a whole new collection to help customers bring it to market. Noir was born!
"We've taken inspiration from the styles of the 1920's. Think art deco, Great Gatsby, gold and black! We feel like this era really encapsulates everything that Eaton is – modern yet traditional and effortlessly sophisticated.
"No new collection is complete without some special glass choices, so we've worked with our partners RegaLead to create some stunning new glass for Noir. There are 6 new designs called Empire, Jazz, Metropolis, Palazzo, Speakeasy and Blossom, which perfectly showcase the new Eaton, Knightsbridge and Tatton door designs but look equally stunning in some of our existing Designer doors, like Monza II Augusta and the Links Augusta Long.
"From a new numbers style to our best-selling decorative glass, Louisiana, in a new rose gold colourway, Noir's 1920s theme beautifully enhances the Eaton doors but also provides a brand-new range of glass that can complement any door from any era.
"The beauty of Noir is that it does the hard work of design for you and is something all of our network can share with their customers as ready-made inspiration. By pairing the stunning Eaton slab in its many different styles in classic dark shades of Black, Anthracite Grey and Black Ash Brown, with our new glass designs and of course, the finishing touch of hardware, the Noir mood board is perfect for sparking interest with homeowners."
The Noir collection can be viewed in DoorCo's latest mini brochure.