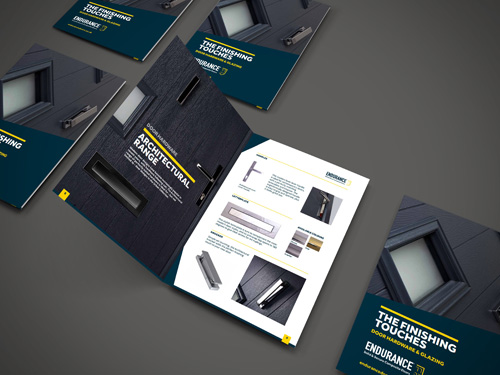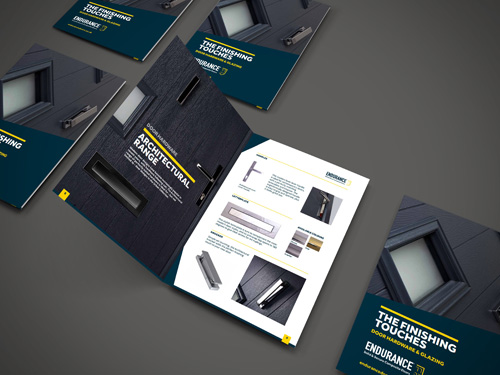 Endurance Doors has launched The Finishing Touches; a new 20-page brochure detailing the hardware and glazing options for its range of 'high performance, solid and secure' composite doors.
This extension of the marketing programme has come in response to the new #YouAskedEnduranceListened initiative, which will in time be expanded from marketing deliverables, to include other elements influencing the whole customer experience at Endurance Doors. But highest ranked request in the recent surveys, was this dedicated brochure for hardware and glass.
The Finishing Touches splits door hardware into separate categories comprising classic, heritage, architectural and urban. There are also details on the newly launched Yale Conexis L1 keyless smart door lock, while the glass section is split into 'simple and stylish, decorative and eye catching'.
Throughout all the brochures, including the newly re-printed main 92-page brochure, consumers and the trade and being encouraged to use the door designer facility. This has constantly evolved over the last six months offering a better user interface and importantly, designed to deliver more sales leads for preferred installers.
Stephen Nadin, managing director of Endurance Doors commented: "The Finishing Touches is an excellent addition to our marketing support programme, as we look to continue to be the fastest growing composite door manufacturer in the UK. Existing customers are experiencing strong growth, while new customers are coming aboard in droves, thanks to our unrivalled product specification and impressive marketing."
For a free copy of The Finishing Touches or for further information on Endurance Doors, please e-mail sales@endurancedoors.co.uk or call the sales office on 01652 462042.