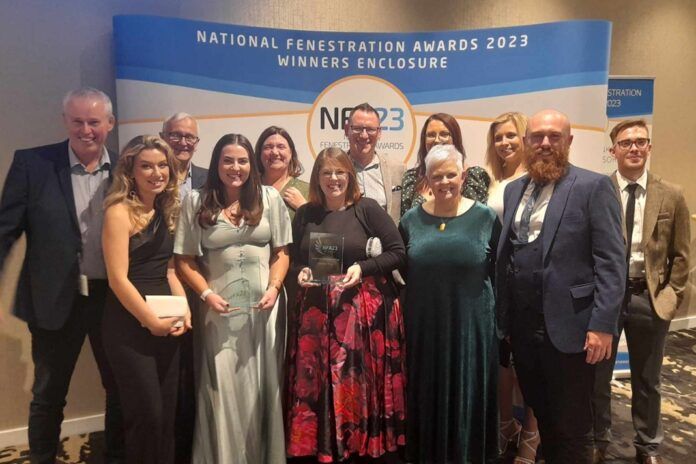 The Endurance Doors team has achieved a double win at this year's National Fenestration Awards (NFAs). The awards took place on 28 October 2023 at Doncaster Racecourse.
The manufacturer of solid, secure and stylish composite doors was named Composite Door Manufacturer of the Year 2023. The award for Young Person of the Year 2023 went to Imogen Payne, the company's digital marketing executive.
Organisers of the NFAs – the awards scheme is in its 10th year – aim to recognise the achievements of individuals and organisations from across the window and door industry. There are 28 categories, covering different product types as well as wider business practices such as marketing, management and training.
"The award for Composite Door Manufacturer of the Year comes after a busy and highly successful 12 months for Endurance Doors," said the business' representative. "During this period, the business launched multiple new products and sales support initiatives, including the opening of a dedicated homeowner-focused retail showroom.
"The company has also made significant investments into new manufacturing technology and more sustainable ways of operating. This has included installing solar panels on the roof of its main production facility, to help meet its electricity needs using renewable energy.
"In addition, the business has made several, new, senior appointments to help support and guide its ongoing growth.
"Imogen meanwhile has made a significant contribution to the digital marketing efforts of Endurance Doors since joining its team in April 2022. Over the last 19 months she has helped to boost the online profile of the Endurance brand by taking a leading role in a range of activities including email marketing, social media marketing and search engine optimisation."
Scott Foster, sales and marketing director at Endurance Doors, added: "The entire team is delighted with our success at this year's National Fenestration Awards. Imogen's award is well deserved and fully reflects her commitment and contribution.
"Receiving Composite Door Manufacturer of the Year is also a real honour and especially in light of the level of competition for this award from other manufacturers. We are especially proud given this is an industry award chosen by industry professionals.
"The polling system employed means we would have been deemed a worthy winner by the people who are best placed to judge our performance and approach. This includes our suppliers, our staff and, most importantly of all, our customers and installer partners."