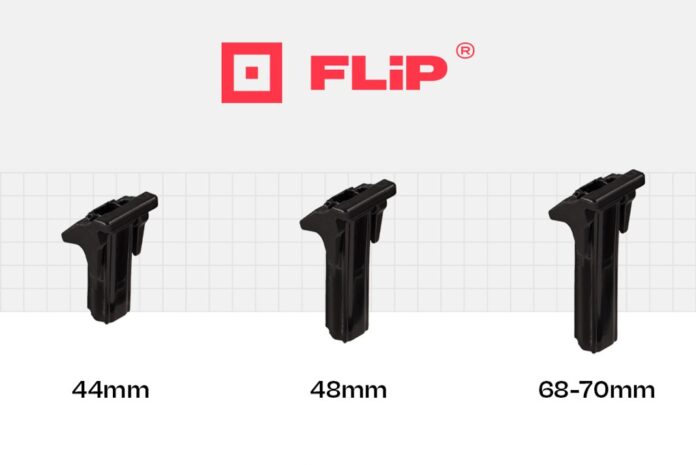 Flip, a door glazing cassette system from the composite door manufacturer DoorCo, is now available to all composite door suppliers in the market. The move makes versatile door design accessible to everyone, its creators argue.
"Since its launch in 2021, Flip has been revolutionising the composite door market," explained Mark Towers, DoorCo's senior production and technical manager. "There is no other cassette system on the market that has the same attributes as the Flip range, and it is now available to fit composite doors of 44mm, 48mm, 68mm and 70mm, which is basically any composite door on the UK market. You can access everything Flip has to offer from unrivalled aesthetics to outstanding performance.
"One of the key benefits of the Flip system is the Foam in Place technology, which delivers a superior seal, enhancing the weather proofing and durability of the unit. This is achieved because the foam seal on the outer frame is machine applied pre-delivery rather than using labour-intensive tape application methods in-house. Flip meets BS6375-2015 and in accordance with EN1027 standards, achieving over 1000pa through the glazing aperture during weather testing, and is also backed by a 10-year warranty from DoorCo.
"Flip cassettes are simple to install and requires minimal use of tools, only a screwdriver. Inside, the simple click-together mechanism is made up of structural connectors that have now been redesigned to offer a range that works with different door thicknesses. These connectors also have a unique tilting head that adjusts to fit the thickness of the glass units, and there is an innovative angled corner protector to reduce corner flare and support heavy units, with an optional component to insert when needing additional security in larger apertures. Unlike some other systems, the Flip components are consistent no matter what profile the outer frame is, which means installers only need to be trained once and manufacturing processes can be significantly improved.
"Overall, Flip has three designs. There are two variations of a flat profile, Stipple and Grained, and a traditional Ovolo (Standard) profile with a woodgrain finish. The Flip Flat Stipple range has some other pioneering style choices too, like Metallic and Twintone.
"Flip really has set the benchmark in driving customer demand for choice and individualisation. Now that it is compatible with any 44mm, 48mm, 68mm or 70mm composite door, we're excited to be able to offer it to the entire market.
"Flip is in stock and ready to go with a choice of colours across our traditional, contemporary and designer designs. So whether you are an existing DoorCo customer or not, get in touch to find out how to transform your composite door portfolio with Flip. Call 01625 428 955 or visit door-co.com/flip." cassette