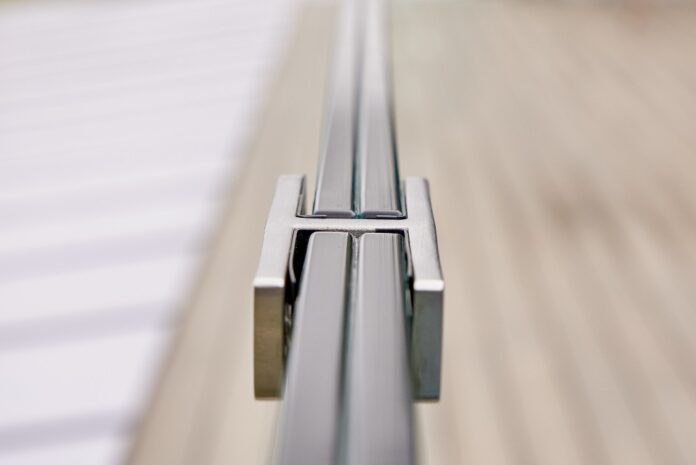 Frameless and handrail-free glass balustrades are an on-trend look that creates a minimal, sleek finish on exterior projects, large and small, according to representatives of the US-owned glass processor, CR Laurence (CRL). They went on to say that installation of these kinds of systems is now straightforward and safe, thanks to the innovative CRL Posiglaze system.
A fully adjustable glass balustrade system, CRL Posiglaze uses a unique clamping design and a quick-and-easy, adjustable method to align glass panels when a handrail is not specified. These qualities made the Posiglaze system a natural choice for installers working on the refurbishment of the balcony area at St Helen's Golf Club in Liverpool.
Cleverly designed out of extruded aluminium, saving weight yet keeping strength, the system is lightweight yet extremely strong, making delivery, fitting and maintenance easier while ensuring end user safety. Posiglaze uses a simple adjustment system to allow horizontal alignment of each glass panel, making it fully adjustable and possible to install the glass, even on an uneven surface, its creators have claimed.
Installation is possible in just four easy steps: fit the base channel to the substructure; clip the glass side clamps to the bottom edge of the glass panel; position the glass in the channel and attach the cover strip and bead gasket.
Tested and engineered to meet the strictest building regulations (with the appropriate fixing and glass thickness) in both domestic and commercial installations, CRL Posiglaze is suitable for applications ranging from residential to commercial settings. The surface mount and the fascia mount base shoes can both accommodate 12 mm to 21.52mm glass, thanks to the unique clamp kit design, which provides a versatile, easy-to-use installation method for rail-free glass balustrades.
For more information about the system, call CRL on 01706 863 600. You can also email crl@crlaurence.co.uk or visit crlaurence.co.uk.