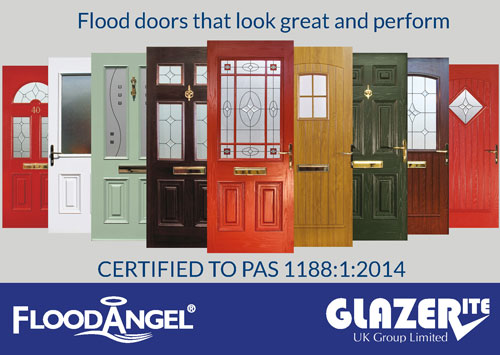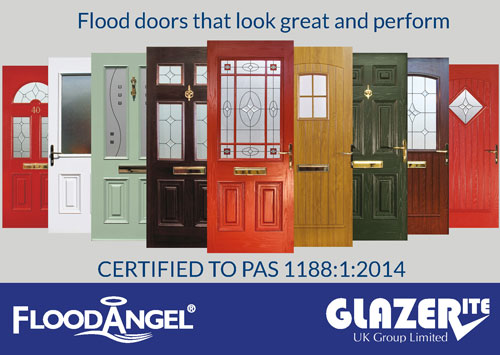 The Glazerite UK Group has teamed up with flood defence manufacturer, Flood Angel. As a result, customers now have access to a range of high-specification flood doors, which include residential, French & composite, along with the opportunity to become part of an exclusive retail partner network authorised to market the products throughout the UK.
The composite door, reportedly the first of its kind in the UK, is based on a Palladio monocoque slab, Halo frame, patented seals and Maco hardware with a key feature being that it is fully compliant with PAS 1188 –1:2014, as are the other doors in the range. The certification guarantees that the door is able to withstand water levels up to 600mm deep, all made possible thanks to a group of unique components including highly specialised locking mechanisms and gaskets.
Jason Thompson, director of The Glazerite UK Group, says more and more homeowners are concerned about the risk of flooding: "They recognise the need to protect their homes but they also want the reassurance of a high-specification defence system, and nowhere more so than the doors.
"Flood Angel has a reputation second to none for all kinds of flood mitigation systems, including its range of Flood Defender doors. Now, we are inviting installer partners to become part of a network of exclusive dealerships to market the door all around the UK and tap into this lucrative market."
Flood Angel CEO Frank Kelly added: "Any flood door is only as good as the quality of fitting. Every applicant to the retail network must undergo intensive training by the manufacturer to ensure installation standards are as high as the specification demands.
Frank continued: "Our doors, like all Flood Angel products, are made to the highest specification to tackle the serious challenges caused by flooding. Working with such a respected company as Glazerite, as well as a network of fully trained and monitored installation companies, we can be sure those standards are matched all the way from the factory to the finished product in every customer's home."
Flood Angel has its own BSI approved testing facility – said to be the first ever private facility of its kind in the UK – at its Droitwich HQ, including a replica house in a flood tank complete with wave machine, where all its products are developed and thoroughly tested.