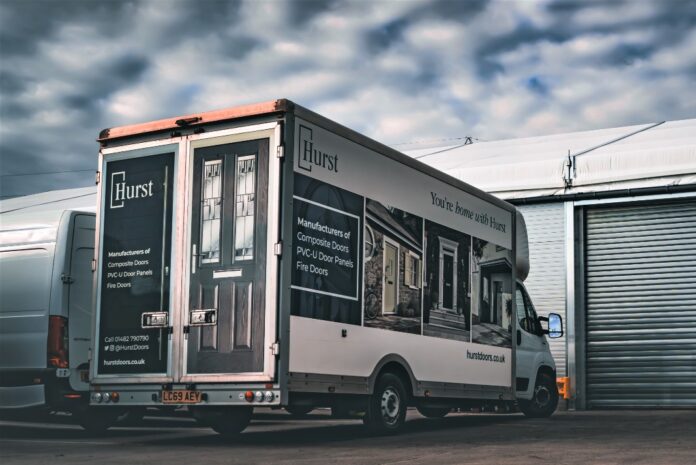 Hurst Doors has heavily invested in a dedicated fleet of 24 Mercedes vans to support its large transport operation. The firm manufactures more than 3,500 PVC panels and 500 composite doors a week for a national network of over 1,800 installers.
Each van travels around 100,000 miles a year to help deliver more than 200,000 door products nationwide. "When you're sending approximately 4,000 products out every week, you want to know that they're going to arrive on time, and safely, with the customer," said Mark Atkinson, Hurst's sales director. "Having our own transport fleet gives us this control over distribution and is a real benefit both to our customers and the business.
"We used to outsource to a third-party delivery company many years ago. Now, we don't have to rely on couriers for 95% of our deliveries, which minimises damages, provides traceability and gives us complete control.
"Our fantastic transport manager, Jon Brake, who has been with the company 18 years, organises deliveries nationwide from our manufacturing facility in Hull. It's a big operation and is cited by customers as a USP for Hurst.
"Time is a precious commodity, and we understand how important it is to customers for deliveries to be made on time and in full (OTIF). Thanks to our transport fleet and wider distribution capability, we can provide that service across the whole of the UK."
Hurst's distribution has been helped by a recent £200,000 investment in a new 430m² extension to its 50,000ft² manufacturing facility in Hull. This has enabled the business to provide a greater consistency of service in its dispatch of PVC panels and composite doors. The extension features a dedicated loading area for the fleet of 24 vans to be loaded overnight ready for the next day.
"As the fleet doubled in size, space became very limited. The extension has provided more space for the vans to reversed into the loading area meaning we can load them more efficiently and effectively," said Mark.
"We have built our reputation on our OTIF, which is currently at 99.8% on panels and 97% on composites. This investment will make it easier to achieve our 99.9% targets and reassure customers that we are doing everything we can to increase and ensure consistency of service."
Customers can track deliveries through Hurst's online support portal, Hurst Live, which sets out to enable the management of all aspects of the account. The automated system features an animated Hurst van on screen, which can be tracked in real time, enabling customers to see their delivery.
Mark added: "Having our own dedicated transport fleet helps us ensure that our products always get to our customers on time, in full and, most importantly, in satisfactory condition. When it comes to distribution, we strive to deliver a first-class service."