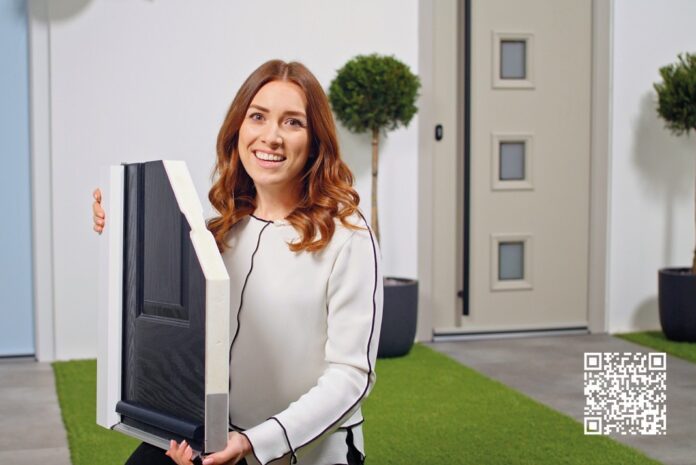 The Hurst Doors team has launched a new campaign aimed at changing the way the industry approaches composite door sales. The team has also launched a new composite door collection ('You're Home With Hurst'), new tools and and offer to help its customers win more business.
"Our customers include retail specialists to independent installers," explained Hayley Barker, Hurst's head of marketing. "Some have seasoned sales professionals within their teams. Others are selling and fitting themselves. What we've tried to do is create something for everybody, with new literature and QR-code-linked sales videos, using professional presenters to communicate everything from thermal performance to colour options and security."
The 65-page lifestyle brochure titled 'You're Home with Hurst' is central to the business' new retail sales campaign. It features Hurst's extensive range of composite door styles, including Classic, Cottage, Contemporary and Designer collections, as well as an extensive choice of furniture, colour and glass options.
The brochure also explains door performance in simple terms, with additional explanations about performance delivered in short, professionally created videos that can be accessed via a QR code. "It's almost like having an additional sales team on the ground," continued Hayley.
"Homeowners can access a wealth of information in the brochure. But if they want further explanation, they can scan the QR code and access a professionally created product walk-through.
"It's a great tool to complement your own sales process or do the heavy lifting, if you're a smaller business without so many salespeople on the road, because it helps to level the playing field."
The Hurst team announced significant investment to support the business' composite door offer in the summer; the business added a new beam saw and two edge banders to the manufacturing facility.
Hayley continued: "People know us for PVC-U panels but we also manufacture more than 500 composite doors each week. We want to make it easier for every one of our customers to tap into those opportunities by helping them to sell their composite door offer more effectively to the homeowner."
For more information about Hurst Doors, visit the door manufacturer's website.