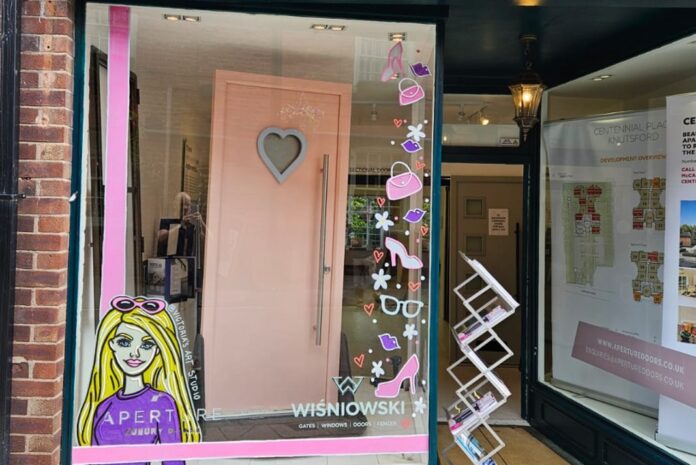 The Aperture Doors team displayed a Barbie-themed window display at the firm's town centre-based showroom in Knutsford, Cheshire, for the town's 'Family Fest' fun day in August. Staff of the retail window and door installer reported having been inspired by a door they saw at the Fit Show earlier this year: the launch of the Residence Door Collection by Apeer.
The especially-produced pink entrance door featured a heart-shaped glazing cassette highlighted by bold, pink Barbie-themed window graphics to create fun and interest as part of the event. According to Lillie Pragnell, a representative of Aperture Doors, the Residence Door Collection's heart-centric door design perfectly matched the fun day's theme.
She said: "Knutsford Council organises a number of events in the town centre and we always try and participate. With the Barbie movie being shown in cinemas at the time, we decided to have fun and create this display. We only had a few days' notice and Apeer responded really quickly to supply us with the special pink door with the heart-shaped glass cassette, to produce a door that Barbie herself would be proud of."
Aperture Luxury Doors set up in the Cheshire town four months ago, as a spin off from another glazing firm in Middlewich, run by Lillie and her partner Doug Carter. She added: "Knutsford is a very lively, wealthy town and we chose a number of luxury brands appropriate for local homeowners who are used to choosing the finer things in life.
"In addition to other high-end brands, and despite an emphasis on doors, we feature Residence Collection windows in our showroom. The Residence Door Collection by Apeer is perfect for the type of customer that we appeal to."
The Residence Door Collection by Apeer has 20 styles – including traditional, contemporary and stable door designs – in nine standard colours. Doors are presented in a 120mm format, and with U values from as low as 0.51 W/m²K. Every door in the range is below 0.75 W/m²K.
Glass units, where relevant, are 78mm quadruple sealed units as standard. Construction is of GRP skins around a high-density PU core, reinforced with aluminium anti-cut through security mesh.
Were any Barbie doors sold as a result of the display? "No, but the display attracted a lot of attention generally, which of course is the point of this and other displays and promotions that we participate in," said Lillie. "It drew people in to the showroom and actually, we did take two orders from people attracted by the window display."