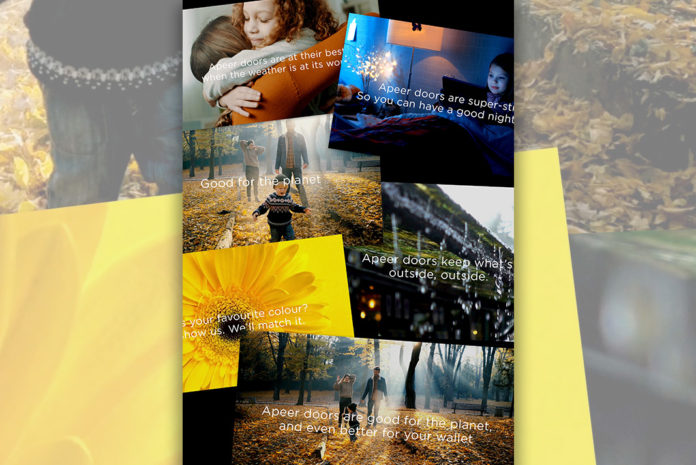 Composite door manufacturer, Apeer, has launched a new website and brochure, building on the lifestyle imagery and styling that were introduced earlier this year, following a marketing strategy review.
Utilising high quality photography and graphics, Apeer says the website and brochure will be delivered to homeowners through a 'sophisticated' social media campaign, a strategy that proved to be successful with the company's videos in the weeks following the official lockdown of the UK and Ireland from March.
Potential buyers will be encouraged to design their own doors using Apeer's 'Doorbuilder' facility, which has also been improved on the new website. Sales leads generated are immediately distributed to local installers in the Apeer Dealer network.
The strategy continues the company's quest to encourage homeowners to consider its entrance doors as home furnishings as much as home improvements, with a new composite door priced similarly to a good three piece suite and other furnishings.
"We want to appeal to homeowners to consider choosing a new front door in a similar way to how they would choose furniture, with the process of designing and even installing the door, just as stimulating," explained Apeer's marketing manager, Linda Tomb.
"In taking this approach we hope to move people on from only considering buying an entrance door when they carry out other major home improvements, to something they might do when they simply want do a home makeover, offering a huge range of colours and styling elements on our doors that will complement the rest of their décor scheme."
Other assets will be introduced to the new campaign, adding to the series of 7 videos that have been running through channels including Facebook and YouTube, since the spring.