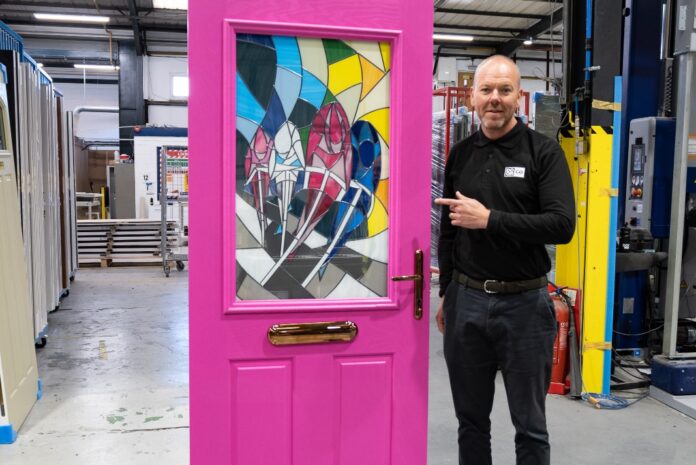 When the staff of composite door supplier DoorCo created the business' pink range, they pledged that 20% of sales from the range would be donated to We Mind and Kelly Matters, a glazing industry charity. Ahead of Doorco's MD, Dan Sullivan, taking part in the charity's Loneliest Road challenge, DoorCo representatives have now announced that donations from sales of pink doors have reached £3,124.50.
Dan, DoorCo's MD, said: "We Mind and Kelly Matters is a charity close to our hearts at DoorCo. We had a close working relationship with Kelly Hewitt, who sadly took her own life in 2018 at just 24 years old. When we heard that her father, John Hewitt, chair of the Glazerite Group, set up a charity in her name to help raise awareness of mental health and prevent suicide, we promised to do anything we could do support them.
"In 2020, to support a growing trend of pink doors inspired by home improvement influencer Mrs Hinch, DoorCo created an exclusive collection of four pink doors, with four new shades of pink, coordinating pink glass designs and the stunning Rose Gold Sweet hardware from Brisant. Pink was Kelly's favourite colour, so we dedicated the collection to her, pledging to donate 20% of all door blank sales to We Mind and Kelly Matters to support the cause. We are absolutely delighted that donations have exceeded £3,000, especially just before I am about to embark on the USA leg of the charity's the Loneliest Road challenge."
In support of Dan's campaign to help raise awareness on breaking the stigma around mental health and prevent suicide, DoorCo has teamed up with RegaLead, Kubu Smart Security and Brisant Secure to create a special edition Bright Pink Lytham door depicting the cyclists. Dan continued: "When We Mind and Kelly Matters announced the cycling challenge, it was something I wanted to get involved with.
"Sporting events aren't really my thing, but I love a challenge. With 3,343 miles and climbing 145,427ft cycling from New York to San Francisco in just 17 days, this is certainly a big one! I am really looking forward to the challenge now.
"I am also determined to reach the £15,000 fundraising challenge I have set myself. The work that We Mind and Kelly Matters does is so important in trying to break the stigma around mental health and prevent suicide. Please spare a few minutes to read my story and donate if you can."
For more information about DoorCo's pink range, visit door-co.com/pink-door-range. Further information about We Mind and Kelly Matters can be found online at wemindandkellymatters.co.uk.