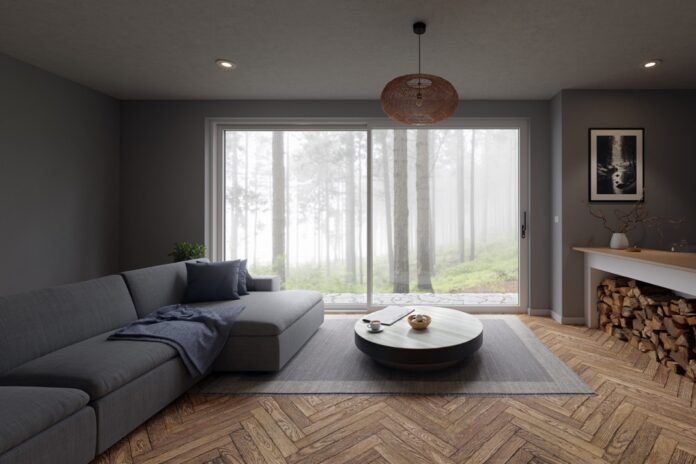 Creators of the Sheerline aluminium system have added a new, thermally efficient lift-and-slide patio door to the brand's Prestige range. Its slim sightlines of 106mm (frame and sash) maximise the views in any room, according to Sheerline's representatives.
The door offers U-values of 1.4 with double glazing and 1.0 for triple glazing. These U-values are the same for every product within the Prestige range, thanks to Sheerline's proprietary Thermlock technology, which further highlights Sheerline's commitment to energy-efficient products that don't compromise on sustainability, security or style.
A key feature of the new lift-and-slide patio door is that it perfectly matches Sheerline's other products so homeowners can achieve a consistent aesthetic throughout a project, business representatives have said. Fabricators and installers also benefit from the consistency provided by Sheerline's technical team, as the lift-and-slide patio door utilises Sheerline's proven clip-in bead system.
In addition, the Prestige lift-and-slide patio door is available in Sheerline's signature stepped sash, and in a range of contemporary colours. It is also Part-L-compliant and can be ordered up to a maximum size of 6.5m wide and 2.5m high, with up to 400kg sashes.
"Installers will also appreciate the different threshold styles available," said a representative of the Sheerline brand. "This includes the standard outer frame and a version with a clip-on cill nose alongside a ramped low threshold, which has been tested in-line with Part M requirements. There's also a concealed zero threshold available, which is ideal for sheltered locations on projects looking for a seamless transition between spaces.
"As with all Sheerline products, the Prestige lift-and-slide patio door has been designed to offer high levels of security as standard, featuring a retracting hook lock with flush keeps. These reduce the risk of snagging clothing on protruding pegs."
The doors glide smoothly during operation because of the specially designed stainless-steel tracks and high-performance running gear, Sheerline's representative added. Dual and triple track options are available, which cover most requirements. To enhance the Prestige lift-and-slide patio door, a patented sealing system has been incorporated to ensure the doors are weathertight against the worst of the UK's weather.
The new Sheerline patio comes with a choice of standard interlocks with slim 80mm sightlines. It also comes with 'ultra-slim' 52mm interlocks that are suitable for use on many popular styles, we are told.
"We're really proud of our new Prestige lift-and-slide patio door because it completes our Prestige range without compromising on the features that are most important to our customers: super-slim sightlines, exceptional thermal efficiency and looks that match all our other products," explained Adrian Redshaw, Sheerline's product design director.
"These are the features that elevate this product, and the Prestige range, to the next level, especially when compared to other products on the market," Adrian added. "We're helping homeowners achieve their dream aesthetic that integrates stylish interiors with beautiful outdoor spaces without compromises."
View the Prestige range in full by visiting sheerline.com. Alternatively, email info@sheerline.com.