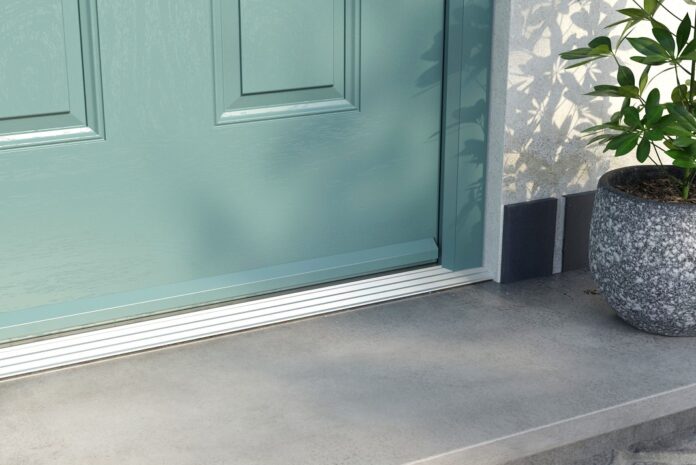 Sheerline has released the latest addition to its aluminium window and door range: the Prestige Composite Door Frame. The product is designed to help installers and fabricators offer whole-house aluminium solutions, where all frames are perfectly matched across a project. Consistent styling, colours, performance and guarantees can be offered across the whole house, right down to the frames around the composite doors.
A choice of two aluminium outer frames that fit both 44mm and 48/49mm door blanks are ready to help doorsets meet the new Part L requirements which come into force on 15 June. What's more, Sheerline's unique Thermlock thermal breaks are said to deliver outstanding thermal efficiency.
With an outer frame that is 16 times more rigid than reinforced PVC-U, the creators of Sheerline hope that installers can offer a truly premium feeling door experience that matches homeowners' expectations of aluminium. The frame combines strength and durability, and virtually eliminates door 'bounce', the business behind it claims.
Created with installers in mind, features such as threshold cover strips that conceal fixings and universal sealable end caps mean that delivering quality installations using the Prestige Composite Door Frame couldn't be easier, they say, which is perfect for busy installation teams. The system's two low-threshold options, tested to the requirements of Part M, can be run continuously under sidelights if required, for improved aesthetics.
Both thresholds are able to accommodate a mechanically jointed 'T' transom/mullion, providing slimmer sightlines when doors are configured with sidelights. All are designed to match seamlessly with the rest of Sheerline's Prestige and Classic range.
The team behind Sheerline believes that homeowners should not have to compromise between style, function or keeping heating bills under control on any fenestration product. From ultra-slim 59mm sightline windows to bi-folds and roof lanterns, everything is cohesive, sharing common components to not only deliver perfectly matched looks but to help streamline the manufacturing process.
Delivered on agile lead times and available in bespoke and dual-colour options, Sheerline's newest addition to the Prestige range underlines the brand's commitment to offering installers and fabricators the very best 'whole house' aluminium solution. To learn more about the Sheerline composite door frame visit sheerline.com or sheerlinevideo.com. Alternatively, call 01332 978000 or email info@sheerline.com. On social media, follow @SheerlineSystem and @GarnalexSystems for the latest news and updates.