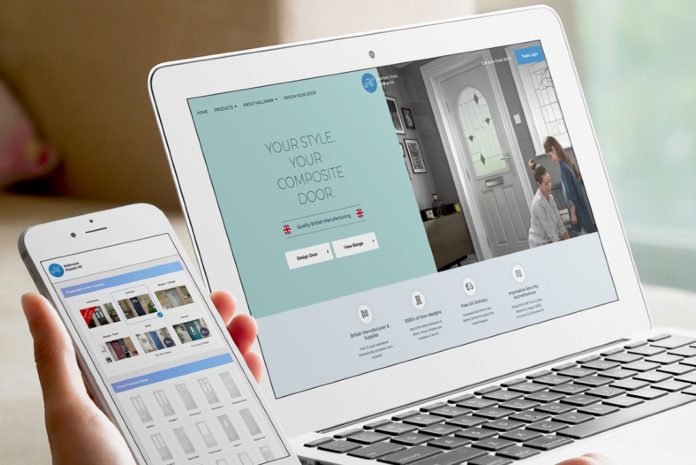 Hallmark Doors and Panels has recorded a threefold increase in orders since last March, enabling it to make investments totalling £1m. The business credits a large part of its ongoing success to its web presence and online ordering system, created before the pandemic by The Consultancy.
Paul Spencer, Hallmark's sales director, said: "We've been working with The Consultancy for more than three years. During that time, they have built us a brand-new website, created a dedicated ordering portal and delivered bespoke online door designers for both trade and retail window customers. These were already helping us to support existing customers and win a significant number of new ones before the pandemic, but the real exponential growth for Hallmark came in 2020, which is when we were able to see the true value of the investments we had made.
"The whole market was almost forced online in March last year. Change which might have taken years happened over just a few months. The suppliers who benefited most from that were clearly the ones, like Hallmark, who already had user-friendly websites, efficient online ordering setups and consumer focused designers. The retail door designer on our website, for instance, enabled us to deliver enquiries throughout the pandemic to both existing and new trade customers who didn't have their own online lead generation tools, and that really strengthened our relationships with them."
Hallmark is keen to point out that much of the value from its investments with The Consultancy came from an approach of continually evolving and developing its online presence. Paul added: "We started out wanting to benchmark ourselves against the biggest names in this industry but soon realised that, digitally, some of them were almost standing still. We saw an opportunity to partner with the experts at The Consultancy and use their expertise and experience in this industry to effectively get ahead of our competitors. Obviously, we had no idea how timely and important that decision would turn out to be during 2020 but, with or without the pandemic, we know we would still be seeing massive benefits."
Hallmark Doors now uses The Consultancy as an extension of its own IT department, sharing its objectives with them and trusting the team to deliver. Paul said: "They obviously know what works in our industry, but that doesn't mean that they repeat the same solution for every client. Instead, they are constantly delivering something new for us and using their experience and expertise to help us differentiate ourselves from the competition."
In 2020, for example, The Consultancy expanded Hallmark's door designer so that it is now one of the most comprehensive in the industry, with fire doors and aluminium doors included, alongside composite doors and panels. It also added a simple online payment option to the ordering portal to free up customer service advisors so that they can now spend more time helping customers and less time taking payments over the phone.
The surge in business which Hallmark has seen over the past year has enabled it to invest in new machinery and a new 15 vehicle fleet, as well as in more online innovation. It has effectively been able to fast track some of the investments it had planned as a result of its success over the past year and continue its focus on efficiency and customer service initiatives.
The company's next big project with The Consultancy is to link the online ordering system with its production and delivery systems, so that it can eliminate manual order processing and give customers access to instant order status updates via their online accounts. Richie Thornton, director at The Consultancy, commented: "Hallmark is almost a textbook example of how we can add value to a manufacturer's business. We've become a trusted part of their team and are constantly looking at ways in which we can help them be even better." For more detail, visit www.theconsultancy.co.uk and www.hallmarkpanels.com.