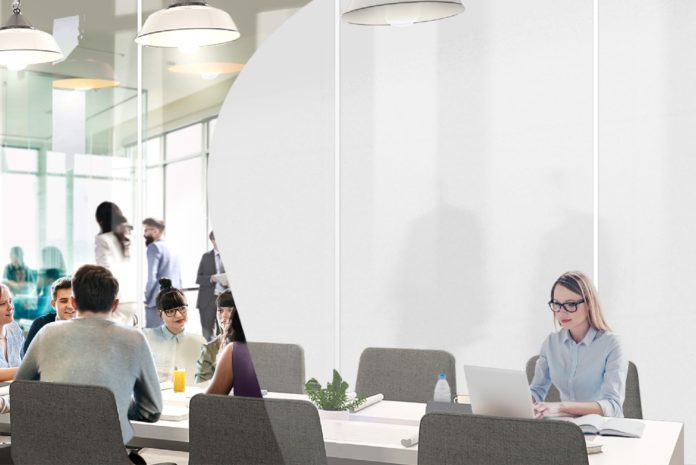 Eyrise Dynamic Liquid Crystal Windows is due to launch instant privacy glass for public and commercial venues, to provide secure working and social environments that maximise natural daylight. The fully transparent dynamic liquid crystal glass partitions can be switched on demand, to create a private space. Eyrise will host an online event to launch this privacy glazing, on Thursday 11 March at 1pm. Click here to register.
"Combining technology and human-focused design, Eyrise i350 invisible privacy glazing creates a naturally bright and flexible environment for the way we live and work now," said Celine Glipa, CEO of Eyrise BV. "People can socially interact through transparent glass or opt for privacy with just one click."
Glass partitioning offers multiple functions for open plan spaces – from private meeting rooms in offices and consultation areas in hospitals to VIP zones in retail stores and as space dividers in conference centres and airports. The glass can also transform into on-demand screens for sharing information or presentations.
Powered by proprietary Licrivision technology, a transparent solution of liquid crystal is placed between two glass sheets coated with a transparent conductive film. The glass is reportedly unique in the smart glazing market for being ultra-transparent from all angles in its clear state.
When prompted by low voltage, the direction of the liquid crystals shifts and moves from a random position to a well-organised orientation in a second. By scattering the light, the glass provides complete privacy, while allowing daylight to flow into the space.