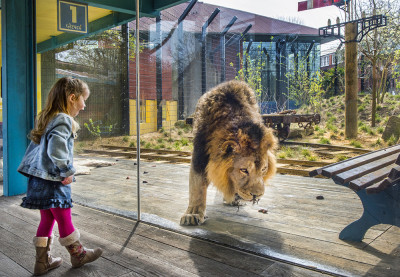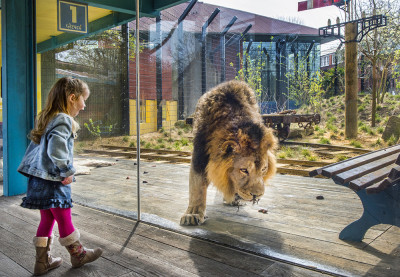 Visitors to the new £5.2m Land of the Lions enclosure at ZSL London Zoo will benefit from an improved viewing experience thanks to high performance anti-reflective glass supplied by specialist manufacturer, Romag.
More than 60m2 of Romag's new AirGlaz toughened laminated glass has been specified to provide transparent safety walling for the viewing sections of the 2,500m2 enclosure, which will be home to a pride of Asiatic lions when the feature opens in spring 2016.
The new installation has been designed to provide a 'close encounter' visitor experience and incorporates an overhead walkway, a crumbling temple, a recreated railway station and an Indian high street.
The public will be able to see the animals easily and up-close through toughened laminated glass that will maintain its transparency and clarity while being protected by a structure strong enough to withstand the weight and power of large big cats such as lions.
The AirGlaz construction was designed specifically for the enclosure to combine anti-reflective properties with maximum strength together with high levels of safety and security.
Installation work was completed over a five month period by Northampton based industrial glazing specialist Cox Design and Manufacturing, which also designed and installed parts of the structural steelwork needed to hold the glass panels securely in place.
Paul Cruddace, a director at Romag, said: "Land of the Lions at ZSL London Zoo required a tough, cost effective and non-reflective viewing solution that would also deliver long-term high performance and added safety.
"Our glass has been specified to provide this and will contribute significantly to an unforgettable visitor experience."
Featuring low iron float glass, AirGlaz incorporates an advanced magnetron sputter coating, which is then strengthened and toughened using advanced thermal treatment processes. This creates a tough, surface with unique optical properties that allow light transmission of up to 97% and reflection of less than one percent.
This compares to normal architectural float glass that typically has a light transmission of 90% and a reflection of 8%. In addition, the carefully tailored anti-reflective coating utilised in AirGlaz has been specially designed so that any reflection caught in the 1% factor appears in a dark blue hue rather than the pink area of the spectrum, helping to remove unwanted glare and prevent distortion.
AirGlaz is manufactured at Romag's specialist glass processing and lamination facility which includes the use of temperature and humidity controlled 'clean rooms' to ensure the highest product quality standards. The company's manufacturing processes are fully certified to ISO9001 and it also holds both ISO14001 and ISO 18001 certification.