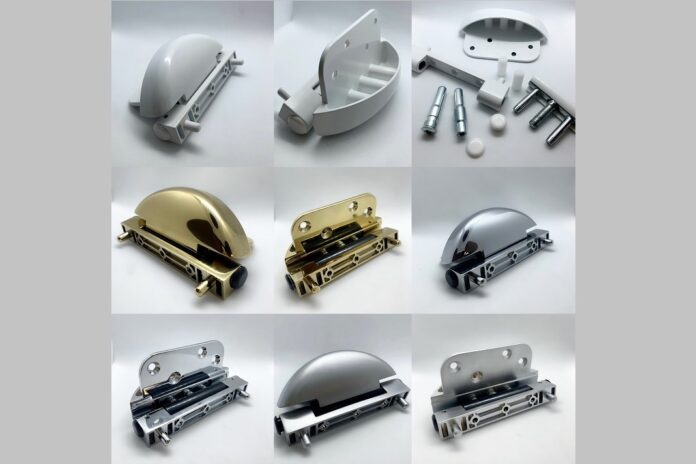 AT Precision has added a range of composite door hinges to its product portfolio. The aluminium bi-fold hardware supplier's new range is made from cast aluminium and comes in a selection of colours, including white, gold, chrome and satin chrome. The new range is available to fabricators across the country via next-day delivery.
"Since opening our doors, we've prided ourselves on supplying the high-quality Everglide range of aluminium components for bi-folds. Over the years, we've expanded our range to include the Everseal range of gaskets as well as security hardware, plastic ancillaries, and aluminium profile for bi-folds, " said Michael Hewitt, AT Precision's sales director. "While our core market began with aluminium bi-fold fabricators, with the addition of composite door hinges we're now able to significantly expand our customer base to include composite door fabricators as well.
"Like our bi-fold hardware, our composite door hinges are all manufactured in-house, meaning we can offer them at a much lower price compared to other suppliers, saving fabricators both time and money. We've always prided ourselves on consistent innovation at AT Precision, in order to ensure that our customers' needs are always catered for.
"The new range of composite door hinges provides our customers with more choice, and that, combined with our quality and cost saving benefits, makes AT Precision the reliable component supplier that fabricators can trust. By coming directly to AT Precision for their bi-fold hardware needs – and now their composite door needs too – fabricators can rely on excellent quality, affordable prices, reliable lead times, and outstanding customer service."