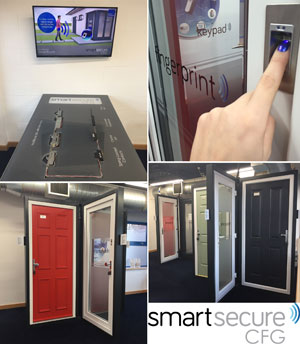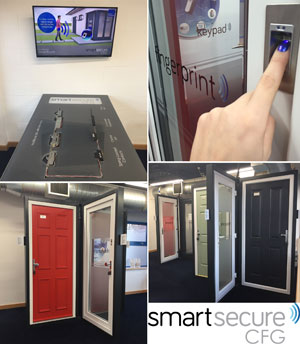 A fully interactive showroom has been designed and built by Carl F Groupco at its Peterborough distribution centre for its SmartSecure electronic locking and smart access control brand. The facility, which is part of an investment of more than £100,000 in SmartSecure, showcases all access control options including fingerprint recognition, transponder, keypad, SmartTouch and SmartConnect easy.
Commissioned to demonstrate the capabilities of the FUHR multitronic 881 hardware that is at the heart of SmartSecure solutions, the showroom features eight fully electronic doors and a demonstration area which is said to 'confirm the simplicity of hardware selection and installation'.
Phil Rice, Carl F Groupco's SmartSecure business development manager said: "With aluminium, composite, PVC-U and timber doors represented, and a separate area for hands on training where Carl F Groupco specialists illustrate how easy it is to prepare a door and fit the hardware, the showroom is already proving popular with visitors keen to be at the forefront of the electronic evolution."
Anyone interested in booking a free, no obligation, visit to the SmartSecure showroom should call the Carl F Groupco sales office on: 01733 393330.