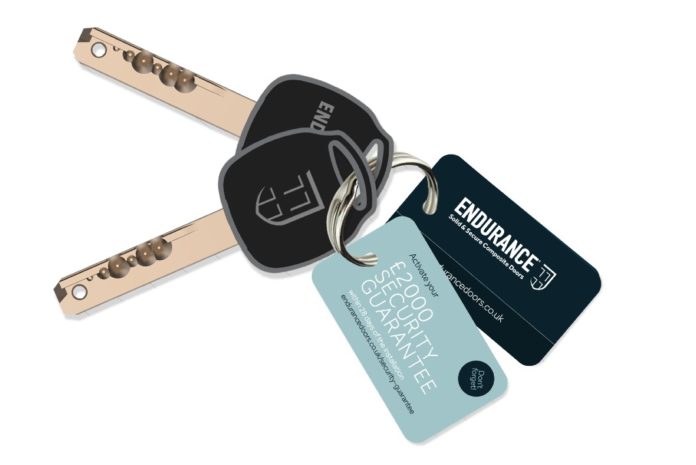 Endurance Doors boasts arguably the most secure composite door, thanks to product innovations. But now, the security guarantee that comes with their own-branded ABS, dimpled key, three-star cylinder has been increased to £2,000.
This 'unrivalled' three-star cylinder, developed in partnership with ABS, is a standard offering with all Endurance Doors. It carries the Sold Secure Diamond mark and is Kitemarked. With the door slab itself having survived a heavy sledgehammer test, courtesy of Hunter from Gladiators, the iconic TV series of the 1990s – the video of which has been widely shared on social media – the Endurance Door security proposition claims to be stronger and more robust than ever before.
Each Endurance Door is supplied with five dimple keys as standard. Additional keys can be cut at hundreds of outlets across the UK, without having to revert back to the original cylinder supplier. The cylinders are manufactured outside of China on cutting edge, automated production lines. They have endured an extended cycle test to ensure they have a life expectancy well in excess of 10 years, while the precision-engineered key has been designed to last a lifetime.
Scott Foster, head of group sales and marketing said: "The increase of our security guarantee to £2,000 reflects the fact that we have jointly developed the cylinder with ABS to offer what we believe is an industry leading security product. With security the number one key driver in entrance door sales, our installer partners and end consumers can be reassured that the Endurance Door reflects the very best in terms of security credentials and quality in the market."
For further information on the Endurance Solid and Secure composite door range, call the sales office on 01652 659 259, visit https://endurancedoors.co.uk or email marketing@endurancedoors.co.uk. You can also follow @EnduranceDoors on Twitter.