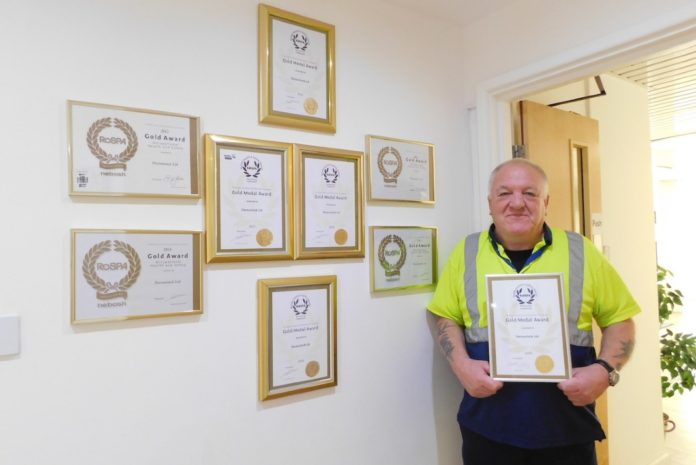 Deceuninck UK has been awarded the Royal Society for the Prevention of Accidents (RoSPA) president's award, an achievement that follows 10 consecutive years of gold awards for its commitment to health and safety. An RoSPA representative described the president's award as honouring 'the best of the best' for workplace safety.
Lew Harvey, the business; health and safety training coordinator, said: "The RoSPA president's award is a huge accomplishment for everyone that works at our Calne facility. All our departments, from warehouse right through to delivery, have played a vital role in maintaining the highest health and safety standards over the last 10 years. It really has been an exceptional team effort.
"The company has grown considerably over the last decade, with the introduction of larger premises and additional machinery, and we have had to constantly update and improve our health and safety practices to ensure that we meet RoSPA's strict criteria," Lew continued. "Ten years' ago, we had around 50 to 60 members of staff, but we have more than doubled that now. Despite the larger workforce, the number of accidents we record annually has dropped significantly, from roughly 30 incidences a year to as little as five.
"The majority of these would be classed as minor, and there have been some years where we've actually reported zero accidents! This is in part due to the introduction of more sophisticated machinery and more spacious factories but also to the huge investment we have made in training and the constant progression of our safe working practices," Lew concluded.
Julia Small, RoSPA's achievements director, said: "The RoSPA awards scheme is the longest running of its kind in the UK, but it receives entries from organisations across the globe, making it one of the most sought-after achievement awards for health and safety worldwide. RoSPA is very proud of the achievements of its entrants, and with this award, we recognise the best of the best, those organisations that have gone the extra mile, raising the bar for the delivery of safety in the workplace."