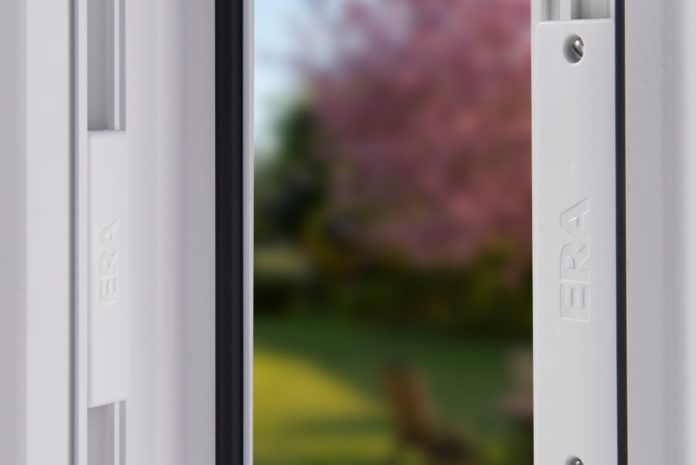 Home security and fenestration component provider ERA is helping fabricators meet increasing customer demand for smart security solutions by launching WindowSense – a wireless integrated sensor that alerts homeowners to intrusion threats. WindowSense is part of the growing ERA Protect range of app-controlled security products, and is designed to be connected to the ERA Protect Alarm hub.
The battery-operated sensor and magnetic contact are fitted into a window's internal frame during the fabrication process, eliminating the requirement for time-consuming and costly wiring. When a window is opened, the link between the two elements is broken, prompting the sensor to transmit a signal to the ERA Protect Alarm hub. The signal triggers the alarm and sends a notification to the homeowner via the ERA Protect app. A tamper switch also ensures that any interference with the sensor will activate the same alarm and app notifications. Available in white, black or tan, WindowSense fits discreetly within the eurogroove of a wide range of PVC-U profiles, making it ideal, ERA says, for any size or style of home.
Launched in 2020, ERA Protect is an app-controlled and smart speaker compatible alarm system, to which you can add up to 96 accessories. The system has the ability to include a video doorbell, indoor, outdoor and floodlight cameras, two outdoor cameras, an indoor camera and a video doorbell.
WindowSense is the first product within the range that can be fitted at the point of fabrication, allowing fabricators to offer window security that forms part of a wider smart home system. By installing WindowSense, fabricators have the opportunity to cross-sell the complete ERA Protect offering, generating new revenue streams for fabrication businesses.
Kerry Blackford, ERA's head of product, said: "WindowSense provides fabricators with the opportunity to offer window security that works as part of a connected home solution. It makes windows smart and helps meet the growing demand for app-controlled technology throughout the home. WindowSense is easily integrated as part of the fabrication process and provides homeowners with a flexible smart security solution that can be added in the future with other ERA Protect devices to extend the level of protection throughout a property."
The first security system of its kind to achieve the BSI IoT Kitemark for secure-connected devices, ERA Protect uses bank-level data encryption. Its built-in sim card offers dual path connectivity, ensuring a property remains protected, even when the internet is not available.
For further information about ERA's diverse portfolio of security products, including its smart home offering, visit www.eraeverywhere.com, call 01922 490 000 or email info@eraeverywhere.com.