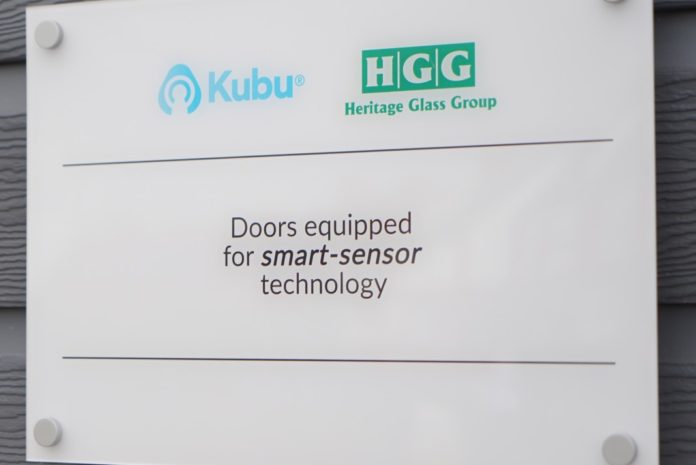 Shrewsbury-based Heritage Glass has become the latest high-profile installation company to become a Kubu installer. Heritage has now adopted Kubu's reportedly pioneering smart sensors, on a range of doors in a newly refurbished showroom environment. The partnership has also been supported by Heritage's manufacturing partner, CWG Choices.
Kubu claims that over the last 18 months, its technology has been increasingly adopted industry-wide, as both installers and manufacturers look to exploit the considerable opportunities for smart sensors in doors and, soon, in windows too. Thanks to the Avantis multi-point lock, there's a captive slot to receive the smart sensor, so, activation by homeowners is both quick and easy.
Heritage Glass will look to sell the Kubu Kits at the point of sale. Tony Randall, managing director of Heritage Glass, said: "This is one of the most important developments in the industry for some years. To be aligned alongside the likes of Amazon, Apple and Google technology-wise is a must for the forward-thinking installation company.
"With a full marketing and showroom support programme, we're certain that we'll be able to close more sales and ultimately satisfy the consumer demand for more smart tech in the home. The fact that Kubu is already proven from a testing and development point of view was also a must for us."
Charlotte Maynard-Keene, Kubu's brand manager, added: "We're thrilled to have Heritage Glass on board. They are yet another example of an early adopter in the market for smart sensors. In the coming months the window variant will be launched, which will no doubt be a true game changer."
For further information, visit kubu-home.com, email support@kubu-home.com or call 0330 555 9545 for a free information pack. You can also follow @KubuSmart on all leading social media platforms.