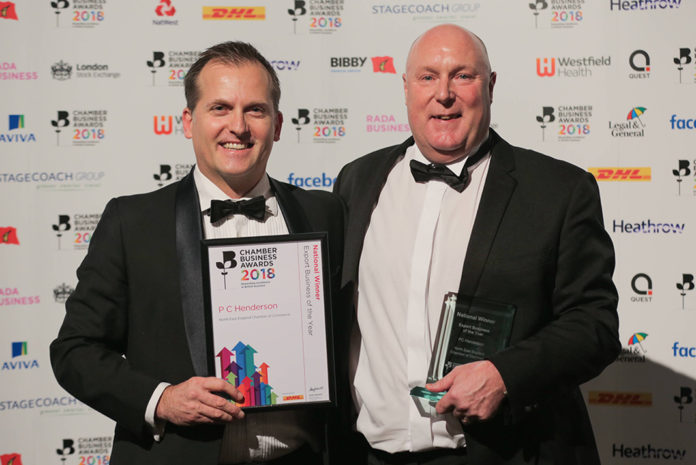 Sliding and folding door hardware manufacturer, P C Henderson, has been named Export Business of the Year at the British Chamber Awards.
After winning the regional finals of the North East Business Awards in April last year, the company was selected by the North East England Chamber of Commerce to represent the region at the national finals.
Trevor Cossins, managing director at P C Henderson, commented: "Exporting on the scale that we do isn't easy. It takes a huge amount of dedication. We've listened to our customers first hand and transferred this knowledge into developing products that suit specific market requirements. To be named the best exporting company in the UK is recognition of the highest kind and we couldn't be happier."
The Export Award category aims to shine a spotlight on companies that have generated substantial success in international trade. Chief executive of North East England Chamber of Commerce, James Ramsbotham, commented: "We are delighted one of our members has received such a tremendous accolade and in particular for this international trade category.
"The Chamber was established by businesses to support each other's desire to expand their marketplaces overseas and P C Henderson are a great example of this same ambition today. Congratulations to everyone there who has worked so hard to achieve success."
This latest success is now the fourth award the company has won for its exporting achievements in under two years. Judges are said to have cited product adaptation, meeting market specific preferences and putting the diverse needs and preferences of its customers as the reasons behind its success.
"To win not one, but four awards for our exporting achievements in such a short space of time is a huge achievement. Every single award is credit to our hard working and experienced team that are dedicated to the global success of P C Henderson," continued Cossins.