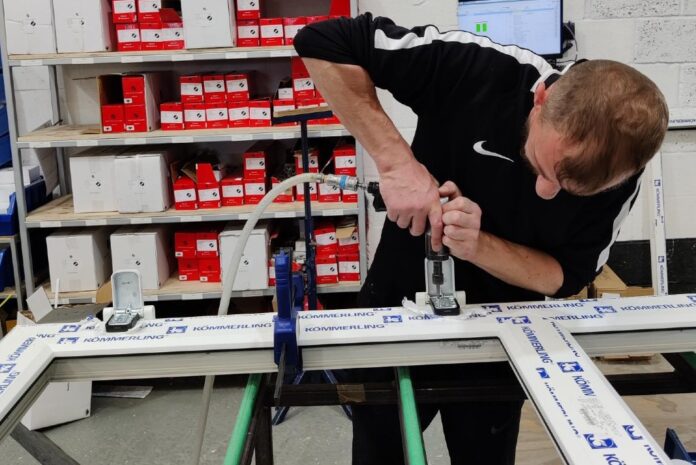 Genius PVC in Norwich has switched to using the Mila ProSecure door hinge for its range of PVC doors in Kömmerling's 70mm profile. The move proves that even in the most efficient factories, there is still room for incremental improvements, according to Mila representatives.
Responding to customer feedback that indicated a desire for more adjustability on their doors during installation, a small, cross-functional project team at Genius set about evaluating options on the market. The team concluded that Mila's ProSecure hinge could deliver exactly what customers wanted, and improve fabrication efficiency at the same time. The Genius team gave Mila its long-term demand forecast and was reassured that, even amid ongoing disruption to global supply chains, Mila would be able to guarantee stock and next-day delivery of the hinge across the range of 13 different finishes.
In Genius' factory, the Mila ProSecure hinge is proving faster to fit than the hinge that Genius was using previously, the business has reported. The demo video on Mila's website advertises the ProSecure hinge as being easy to fit in less than one minute, thanks to a combination of one piece fitting straight from the box and 'Glider' technology, which means that the whole hinge slides directly onto the frame, ready for front face adjustment with an Allen key.
The Mila hinge been seamlessly integrated into Genius' Kanban lean manufacturing flow, the business reports. Its dedicated, point-of-use racking system set up can be loaded with the exact number of hinges required for each shift.
Clearly impressed, Lee Dickinson, Genius' operations director, said: "The rapid fabrication of the Mila hinge has improved our production efficiency. The adjustability and the quality of the product has fulfilled our customer needs and the supply chain has performed impeccably without a single disruption."
The Mila ProSecure hinge came to the market back in 2016 but continues to be one of the company's best-selling hinges. In 2021, more than 1m units were sold in the UK. As well as the speed of fitting, it offers lots of other benefits for fabricators and installers including SBD accreditation, a BSEN Grade 5 rating for corrosion resistance and a 25-year mechanical operation guarantee.