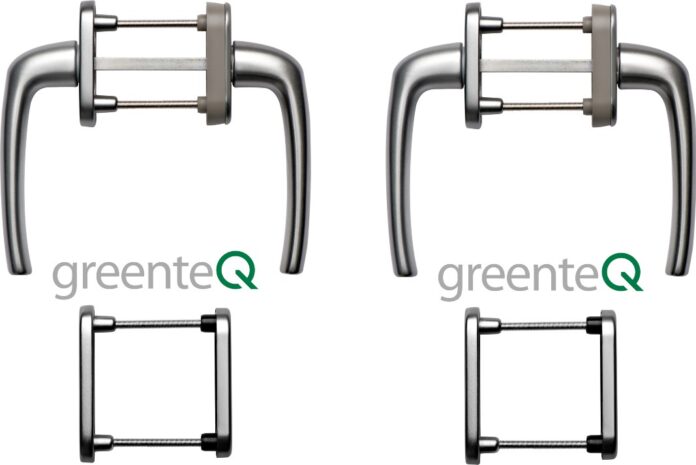 The hardware manufacturer VBH has introduced a new GreenteQ handle set range for tilt/slide patio doors. Tilt/slide patio doors continue to be a popular option for patio doors, VBH's representatives reported. They added that the doors' ability to offer a large opening when in the slide mode, and controlled ventilation in the tilt position, makes the product a popular alternative to standard inline sliding patio doors, and that many people prefer that tilt/slide doors offer locking points around the whole door sash.
The new BGT10 handle sets are taken from VBH's Continental GreenteQ product range. As such, they are available in the finishes that are most popular in Europe. These are white, brown, F1 silver anodised, F4 bronze anodised and F9 dark silver anodised.
Standard and slim variants are available. The standard external lever stands off the door face by 51mm while the slim outer handle stands off by just 24mm, allowing it to pass the fixed mullion as the door slides open.
Rather than supply the handles in a set, VBH supplies BTG10 as separate inner and outer halves. This ordering format allows fabricators to choose a slim or standard outer as well as opting for different internal and external colours for bi-colour doors, cutting down waste and reducing cost.
Gary Gleeson, VBH's marketing manager, said: "The GreenteQ brand is very strong within the patio door sector. Although tilt/slide doors are not in the same sales volume bracket as bi-folds, lift/slides or inline sliders, there is still a healthy market for them, and we sell a lot of tilt/slide hardware. We're very pleased to have been able to introduce one of our German handle ranges into our UK product portfolio to give fabricators here a GreenteQ option.
"VBH was recently named Hardware Company of the Year again at the National Fenestration Awards. Perhaps it's our constant quest to provide our customers with new product options that prompts people to nominate and vote for us when awards time comes around each year."
The VBH team can be contacted by calling 01634 263 263 or by emailing sales@vbhgb.com. Alternatively, tweet @vbhgb.