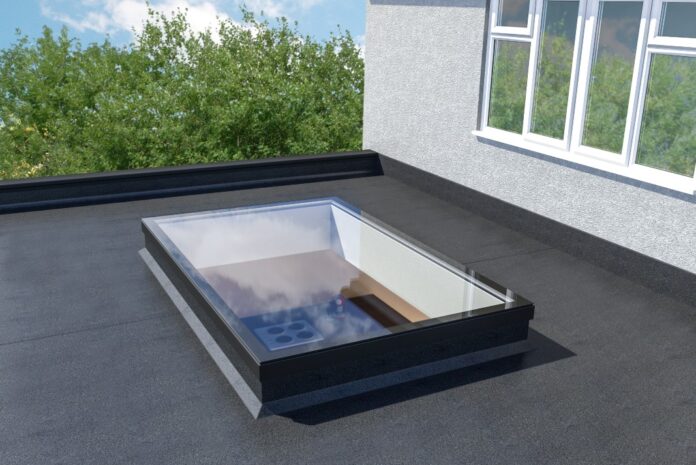 Ultraframe has enhanced its Ultrasky flat skylight by adding new ceramic paint technology. The business has also reduced the product's lead time to just 10 days.
The new ceramic painted edge is applied prior to toughening the sealed unit for guaranteed longevity, Ultraframe's representative explained. The paint is 'baked' to the internal face of the external glass, making it robust and scratch-resistant, they said, adding that this type of coating is less likely to deteriorate due to weathering. As the ceramic paint is applied prior to the unit being sealed, it achieves a clean, edge-to-edge black aesthetic, which conceals both the spacer bar and edge seal, protecting it from UV rays and removing the requirement for a silicone secondary edge seal.
Alex Hewitt, Ultraframe's marketing director, said: "Our Ultrasky flat skylight already featured groundbreaking technology, and we have recently enhanced the product further with the new ceramic paint technology. We're also delighted to announce a reduction in the lead time to just 10 working days, which we know will be a huge plus point for our customers, allowing them to keep their site schedules running smoothly."
The Ultrasky flat skylight has grown steadily in popularity since its launch, its representatives reported. Said to be 'ideal for use on both orangeries and flat roof extensions', the product benefits is marketed as being the fastest flat skylight to fit on the market, thanks to its unique click-fit frame and one-stage installation process. The product's manufacturer also describes it as the warmest flat skylight available, as it has a U-value of just 1.2 due to warm frame technology.
The products offers 34dB noise reduction properties and its click-fit frame means no fiddly trims and a fast precision fit every time, according to the skylight's creators. Its distinctive frameless glass and slim aluminium surround gives the Ultrasky flat skylight a contemporary look.
Available in grey, black and white as standard colours, or any RAL on request, the Ultrasky flat skylight is building-regulation-compliant for hassle-free project management. Marketing support is available, including 3D digital samples. To find out more about the newly enhanced Ultrasky flat skylight, visit Ultraframetrade.co.uk.