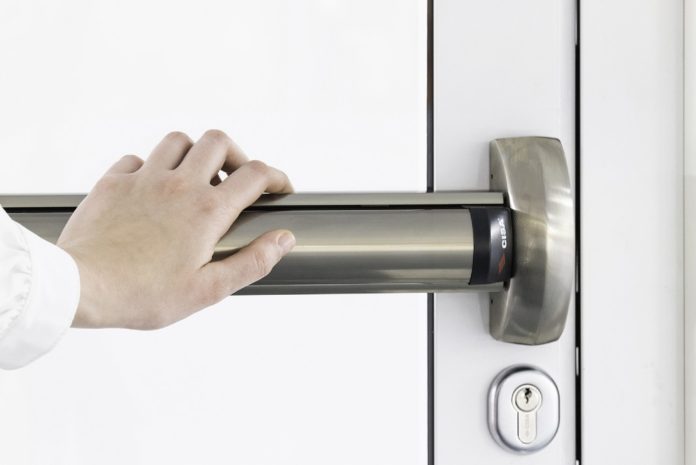 Carl F Groupco, a manufacturer of door and window hardware, including panic and emergency exit components, has expanded it range to include the CISA FAST Touch Panic Exit Push Bar. Compatible with FUHR panic exit door locks, the panic bar features fast touch operation and a mortice panic function that works alongside the eurogroove fit, FUHR multipoint panic lock range. Its stainless-steel, satin PVD finish provides a clean and crisp appearance.
John Mitchell, Carl F Groupco's technical manager, said: "We are always looking to source hardware components that can offer our fabricator partners enhanced functionality and the ability to comply with the latest standards and regulations. The CISA solution will be of particular interest to our Scottish fabricator partners. Scottish regulations stipulate that hardware on panic exit doors should protrude no further than 150mm for Category One doors and 100mm for Category Two doors: the CISA Fast Touch Panic Bar is well under this regulation, protruding only 75mm from the door.
"The regulation in Scotland is in place to ensure safe exit in a panic situation; the less the hardware protrudes from the door, the less likely that clothing will get caught on the door when using the exit." Certified in accordance with EN 1125 and CE marked, the CISA panic bar has been tested beyond the parameters requested by regulators.
Combined with approved hardware, including the CES free movement cylinder, the set complies with BS EN 1125 for panic exit hardware, and is approved for use in public buildings and premises where individuals may not be trained in escape hardware, including schools, flats and office blocks. Carl F Groupco's experienced support team is available to advise customers of the most suitable hardware solution for any application, including compliance with emergency and panic exit requirements. Call 01733 393 330.